Why Smart Solar Owners Use Solar Monitoring Systems
In this post, we will answer the following questions:
Table of Contents
What is Enphase® Enlighten Monitoring?
Enphase® Enlighten monitoring elevates solar energy systems by adding reliability and control to the solar ownership experience. Enlighten is built into Enphase® microinverters and gives insight into each solar panel's efficiency. Homeowners and installers can obtain a quick overview of how their entire system is working by logging into the Enphase® Enlighten portal, which also provides visual notifications when maintenance is required. The Enphase® Enlighten system provides all information, including the amount of energy generated and used, and includes tips on how to minimize usage, identify problems, and maximize efficiency.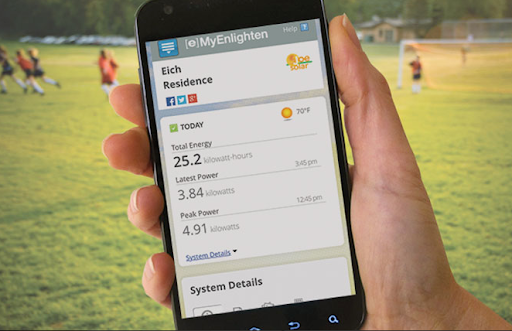 How does Enphase® Enlighten Monitoring Work?
Enphase® microinverters are linked to each panel, allowing you to remain in touch with your rooftop solar modules. These microinverters then transmit a quick note to the Enphase® Envoy (communications gateway that has a 5 year warranty), which subsequently sends the data to the Enlighten Software and shares the solar power generation information through conventional power lines.
From there, homeowners and installers can easily monitor a given system using the "MyEnlighten" mobile app, which will ensure that everything is operating properly while providing all of the statistics on how much power is being generated. The user-friendly feature also enables sharing your electricity bill – say, if you want to lead by example and share your savings on social media to encourage friends and family to go solar.

What features of Enphase® Enlighten Monitoring make it unique?
Regular Monitoring: Enlighten continuously monitors each panel's output and compares them with each other to find any manufacturing faults.
Analysis: Enlighten evaluates system performance deficits and determines a likely reason for an issue. It then proposes options to correct the problem with the help of its built-in analytical algorithms.
Insights: According to notification customizations at the time of activation, Enlighten quickly delivers a warning to the system owner or installer when there's an issue to address.
What is monitored by Enphase® Enlighten?
Enlighten monitors that operations and equipment are running smoothly.
Enlighten will notify users whether there's a problem with any equipment or wiring.
If the fault is from a solar array, it will identify which panel is experiencing trouble.
Daily solar system performance updates include:

How much power was created on that particular day.
Daily energy data displays the maximum power used for the day.
Weather conditions.
Enlighten preserves a thorough record of solar array power generation in 15-minute increments throughout the day from the time of installation.
Real-time data on any given day of its lifespan.
Shows the most profitable time the system is running.
What are the key benefits of Enphase® Enlighten Monitoring?
Below are some of the stand-out benefits of Enphase® Enlighten Monitoring.
At-a-glance dashboard for easy real-time reporting
To quickly see the energy output metrics of your system, Enphase® Enlighten monitoring offers a simple dashboard overview that you don't have to be a solar expert to understand. The interface design allows users to quickly and easily examine what's going on with their system without navigating through several windows.

History data available
Enphase® Enlighten integrates data recording to keep a record of previous days, weeks, and months of power generation, providing detailed information on where your electricity comes from, where it goes, and when. Layering this data with historical weather data can help you understand changes in the performance of your PV module equipment.
Easily understandable statistics
Enphase® Enlighten software developers understood it had to be easy and be helpful. Users appreciate the software's clear, effective style, which makes the data charts easily understandable for everyone. Below is an example of the energy usage graph that shows the time of day vs. kWh usage.

How does Enphase® Enlighten Monitoring compare to competing/similar systems?
Enphase®, SolarEdge, and SMA are the three leading solar part manufacturers that provide solar monitoring in their products. The most significant variations between the three solutions are primarily aesthetic in nature, with few practical variations. The most significant differences are in the equipment's estimated lifespan and warranty offerings.
Enphase® Enlighten Monitoring is the most well-known solar device monitoring system globally. Its microinverter innovation establishes the technical standards and 25 years warranty compared to SolarEdge and SMA, which offer only a standard 12 years and 5 years warranty, respectively.
Enphase® and SolarEdge are both on the Solar Insure Approved Vendor List and offer a 30 year monitoring and warranty with zero deductible, parts, and labor (see warranty for details).
Component Monitoring with Solar Insure
Our monitoring technology displays component failures on the Solar Insure Platform so that installers can respond to issues quickly. Other features include;
Battery product access**
Automated claims processing**
One location for all inverter technologies**
Solar Insure's Component Monitoring technology provides monitoring and remote diagnosing for residential solar. In the future, it will also allow for smart energy home system component failures monitoring. The Solar Insure algorithm is engineered to quickly and efficiently detect solar system component issues and provide system alerts to solar companies.
For Partners: Learn how to become a Solar Insure vetted partner to deliver our 30 year warranty.
For Homeowners: Explore your peace of mind options with our 30 year warranty.
** Coming soon
Resources
https://www4.enphase.com/sites/default/files/Enlighten_feature_sheet.pdf
https://www4.enphase.com/en-us/homeowners/welcome/monitoring