The State of Colorado has many incentives available to offset the costs associated with converting to solar power.  Grants and rebates affect costs the most, and Colorado has a number of programs in each category.
Summary of Colorado Incentive Programs
•Federal Tax Credit 30%
•State Rebate up to $3.5W
•3 Local or Private Grants Available

Colorado Grants and Rebates
Grants available include those through Namaste Solar Electric in Boulder, and also a grant funded by a portion of sales taxes collected in the city of Boulder.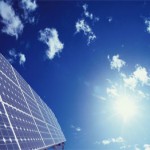 Colorado has established several rebate programs to help defray costs for those customers who don't have rebates available through their utility company.  These rebates have a maximum amount of $9000, $15,000 for small commercial applications, and lesser amounts ($3000 and $9000) for solar water heaters alone.  Aspen offers the Solar Pioneer Rebate Program which offers a flat rebate of $1500 this year.
Utility rebates include $2W plus $2.50W renewable energy credits through Black Hills Energy, $3.75W through Colorado Springs Utilities,  $2W through Holy Cross Energy, $2W through La Plata Electric, and $2W plus renewable energy credits of $1.50W through Xcel Energy.
Colorado Tax Incentives
The state of Colorado exempts solar equipment from sales and use tax, and also from property taxes.
Financing Options
Loans available include the ZILCH loan from Fort Collins Utilities (0%,) and Aspen also has an interest-free option.  There are several other programs through utility companies as well as the many federal loan programs that are available.
Additional information can be found by visiting the DSIRE:Database of State Incentives for Renewables & Efficiency .