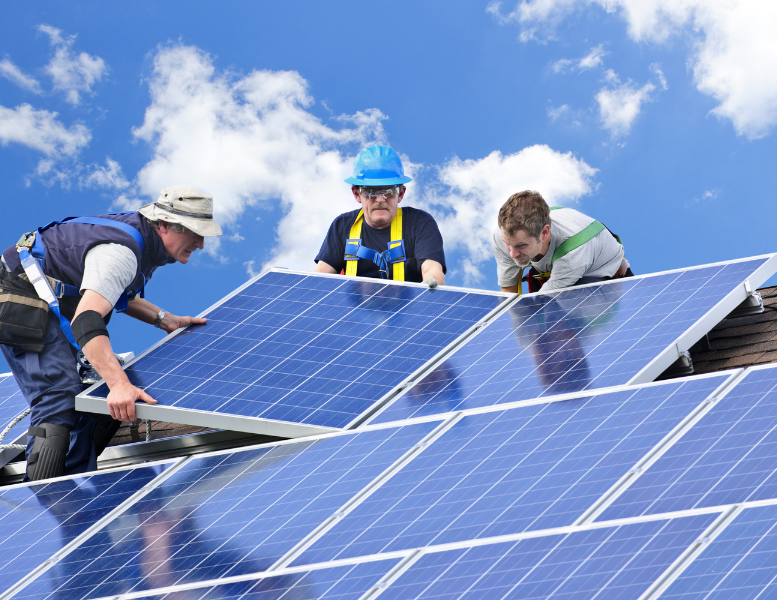 Solar companies thrive, like other businesses, by lowering overhead and increasing sales. There are several ways to keep costs down and profits up. Becoming a vetted Solar Insure partner has proven to be a method many top-performing solar companies have added to give security to their business.
We get calls all of the time from installers who've lost bids to their competitors who are Solar Insure partners. The majority say they competed on the lower price and still lost the contract because the client wanted Solar Insure. We only deliver our 30 year monitoring and warranty through our vetted partners.
These are the strategies that help our partners succeed in lowering their overhead and increasing sales.
Service hotline for homeowners and contractors
When you can't field a call from a homeowner about their monitoring and warranty, we have a 5-star customer service line to answer questions from homeowners and contractors. This service comes with your partnership and shows customers that you are always there when homeowners need you. When it comes time for your questions, we're here to answer them.
If your customer's solar equipment manufacturer becomes insolvent, we're here to cover them and take their calls to help with repair needs. We take on the responsibility of product claims and ensure your customers always have someone to call. This saves you time answering questions or researching answers to questions you might not know, and it also lowers the overhead on staff required to field your customer calls about their coverage.
As your business grows, so will the demand for a service hotline. Premium products and services offer premium customer service, which reflects excellently on your company.
Monitoring advancements for improved after-install service
Solar Insure monitoring is rolling out features geared to improve contractors' after-repair management. Some features will include alerts and an automated claims processing system, drastically reducing administrative time on claims filing. In addition, the new system will save contractors time on toggling from one manufacturer's monitoring system to the next by combining them all under one dashboard. This legacy view will improve prioritizing and managing customer repair needs. The new system will be a solar business must-have.
The greatest part about monitoring tailored to the installer is that it will be easier to use and leverage for increasing after-install revenue streams. Not all monitoring systems are created equal in visualizing your customer's data.
Warranty service call payouts
While installations are the core income stream for solar companies, leveraging after-install warranty payouts adds an additional income stream. Streamlining warranty service calls helps with bread and butter income from those warranty payouts on service and truck rolls. Warranty service calls help keep customer systems up to par and, when managed effectively, can help improve monthly numbers. With Solar Insure, contractors are doubling down on their commitment to customers, which drives satisfaction and referrals.
Eliminate warranty inefficiencies
Rather than rely on manufacturer warranties and production guarantees, which may have some holes and not cover your customers, Solar Insure partners are able to eliminate warranty and guarantee inefficiencies with one 30 year straight forward protection. It helps installers get paid for repair work required when labor and travel aren't covered elsewhere.
Marketing support
Once our Solar Insure partners are vetted and approved, they receive marketing materials to support their client acquisition and sales process. We ensure all our partners have the language, materials, messaging, and marketing information necessary to guide leads into enthusiastic sales. This saves time and money for our partners on their growth journey. All partners gain access to our presentation materials for homeowners, pamphlets, training, and webinars.
Improve customer confidence and positive reviews
You're known by the company you keep, and when you're a vetted Solar Insure partner, you're in great company. Many of our vetted partners tell us that they point their customers to Solar Insure reviews, which helps them increase their level of respect and customer confidence. 
We have spent years building a sterling reputation by being dedicated to increasing homeowner confidence in solar installations. Our vetted partners see a spike in customer satisfaction and positive reviews.
87% of consumers look to online reviews to learn more about local businesses.
79% of users report trusting online reviews as much as word of mouth.
94% of consumers report that positive reviews make them more likely to use a business.
Here are a few reviews from our partners: