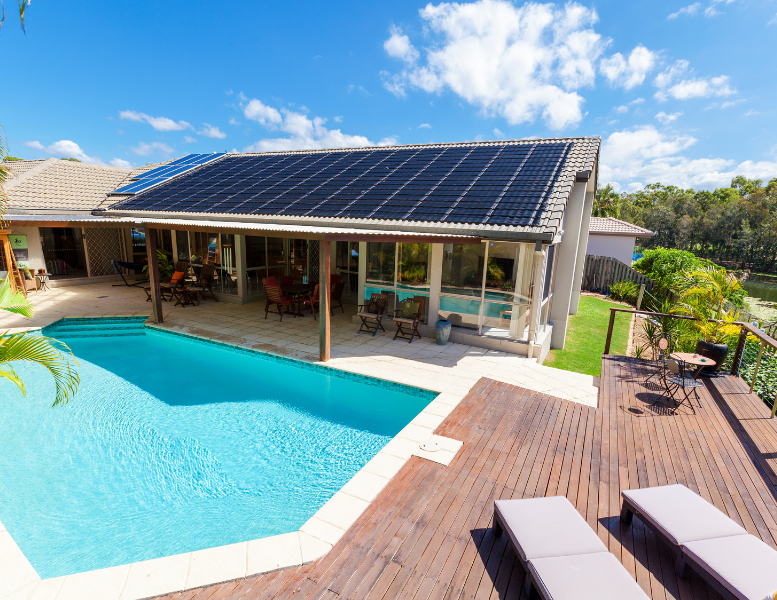 Why wait for hindsight to give you 20/20 when you can learn from other people's wins and mistakes before making your solar decisions? When it comes to solar warranties, we might feel compelled to skip them. However, as with any large purchase, it's better to protect our investment than overlook the small details that can cost us in the long run. It's all about long-term value. So here are 11 reasons why it's vital to have a Solar Warranty, along with real-world experience from people who have already gone through the research and process.
11 Reasons Why You Need Solar Monitoring and Warranty
#1 Manufacturer Warranties often do not cover the total cost of parts and labor
There are certain variables to consider when deciding on a warranty for your solar panels. Depending on the type of panel and the manufacturer, a typical manufacturer solar panel warranty should be about 10 years.
When it comes time for a part replacement or fixing any failures, most people are unaware that there are additional labor costs and are alarmed to find out they're responsible for paying for these associated costs. These costs go beyond what the manufacturer's warranty covers. The owner of the system typically has to pay for this coverage out of pocket and is rarely reimbursed for labor.
You will need a warranty that covers these gaps and lasts the full length of your equipment. It makes more financial sense to include any coverage upfront rather than pay many payments and unpredictable costs later.
Solar Insure 30 Year Monitoring and Warranty provides an extra layer of protection by covering what is typically not offered in a manufacturer warranty and is part of your installation.
A lesson from Karen Branzell via Google Verified Review: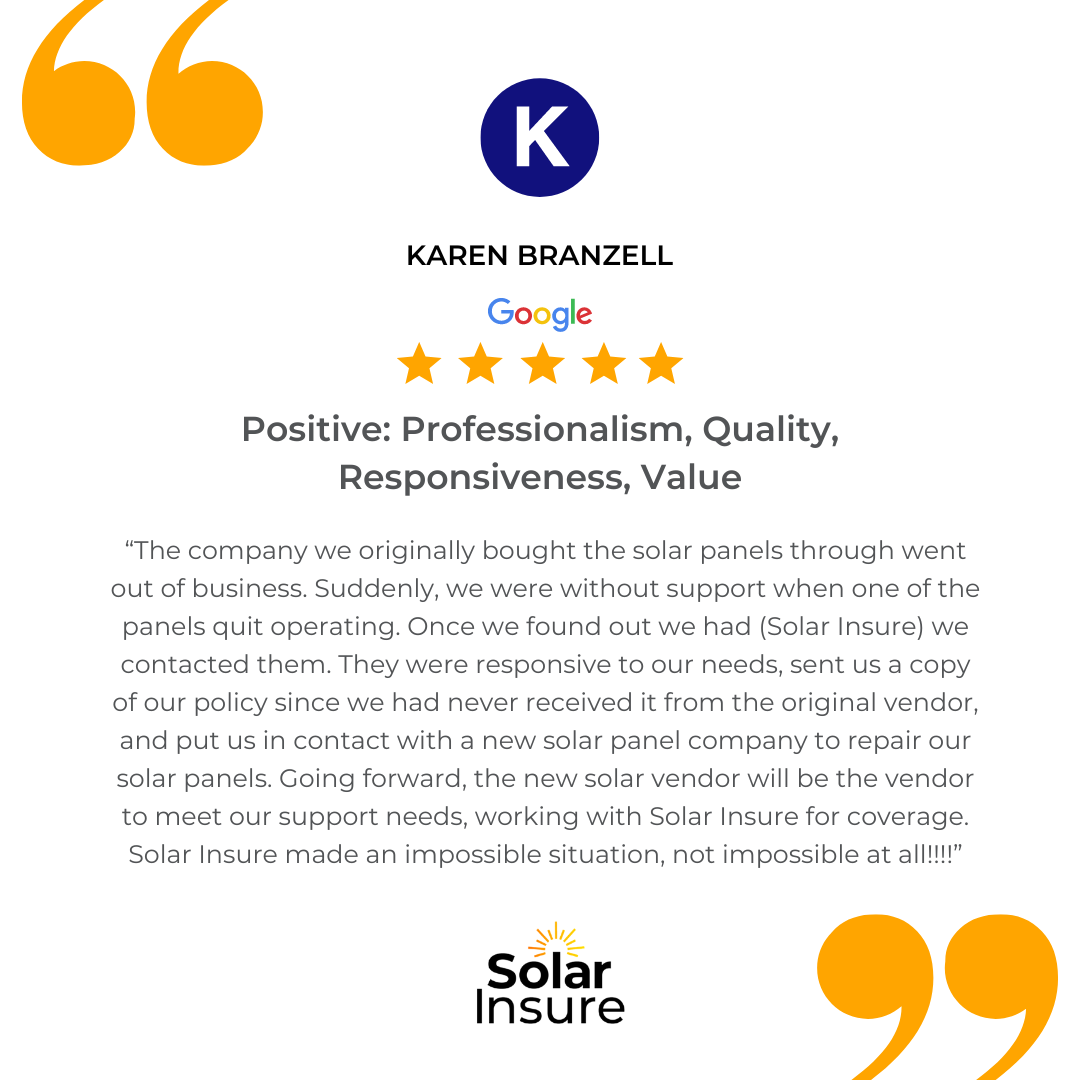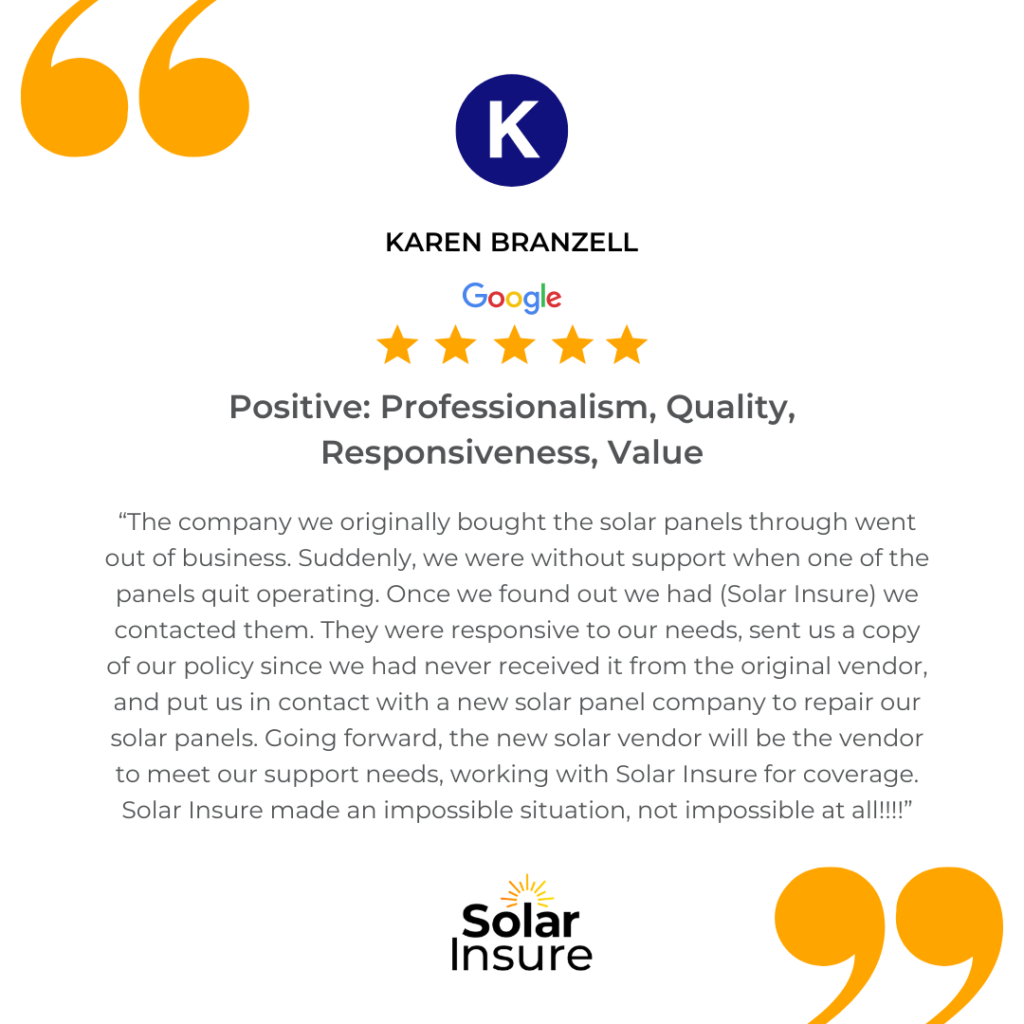 #2 Most Manufacturer Warranties are only 10 years on average, some shorter, some longer
Solar panels last roughly 25-30 years, yet the average solar manufacturer warranty is about 10 years, with some being as low as 5 years and others as high as 25 years. You'll want to be covered during the period of time when more problems tend to creep up. An ideal length of time is 30 years of coverage.
According to a Yale Economics study, consumer perception of quality is influenced by the length of a product's warranty. More often than not, this logic proves true. The more confident a manufacturer is in their product, the more years they can deliver on coverage.
When it comes to Solar Insure, we maintain a highly vetted list of approved vendors for coverage. This ensures quality to our customers and confidence that products are made with the utmost integrity and quality. Solar Insure delivers beyond the shorter lengths in coverage for manufacturers. We do this to provide support throughout the entire life of the solar power system, so homeowners have confidence that they're protected for the long haul.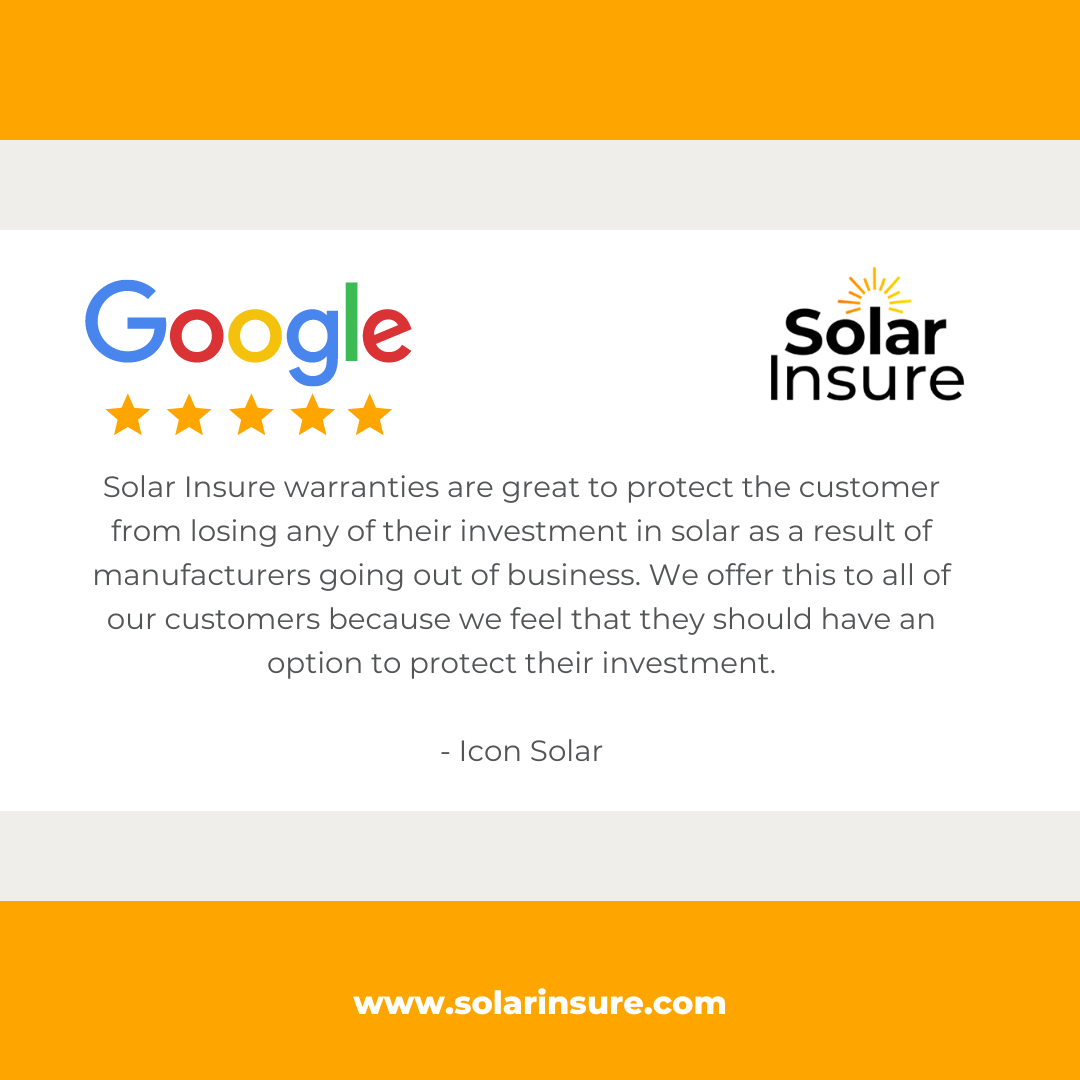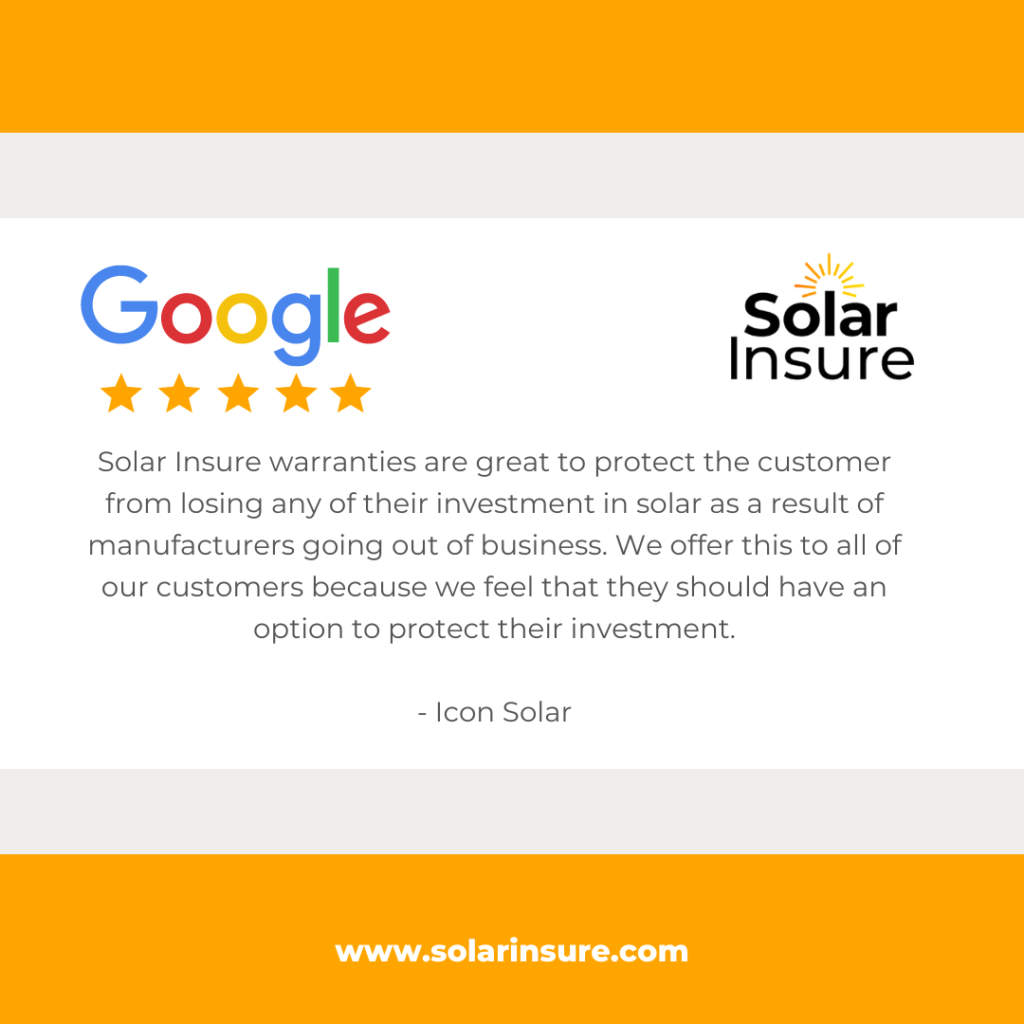 #3 String inverters, microinverters, and optimizers can fail
Inverters are an integral part of your solar power network, and repairing or replacing your inverters can be expensive. Your inverters convert the direct current generated from sunlight into power. The current converted becomes usable electricity in our homes and businesses. Learn more about inverter failure from customer Carlos Ramos and the support he was able to get from Solar Insure's 30 Year Monitoring and Warranty.
A microinverter failure lesson from Carlos Ramos via Google Verified Review: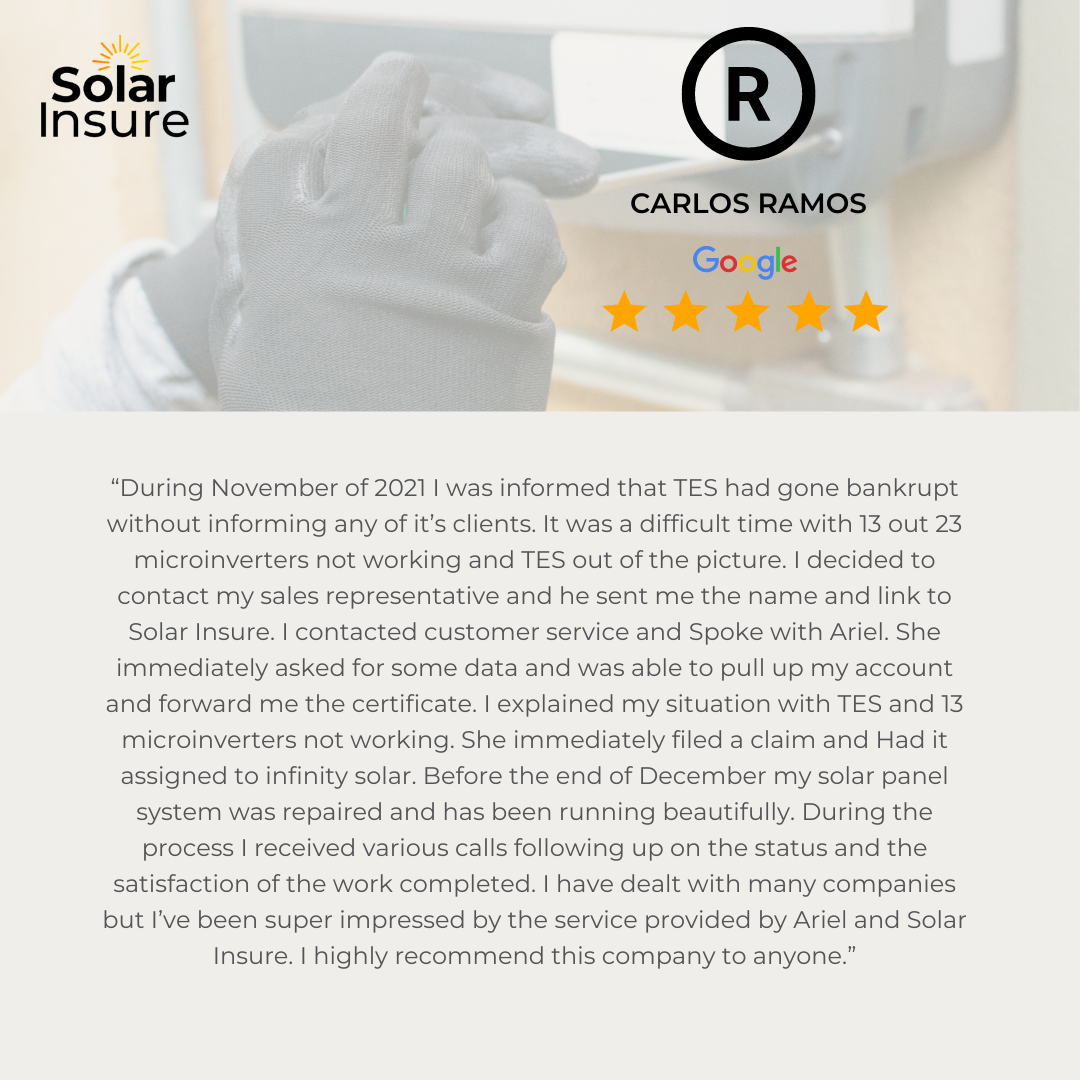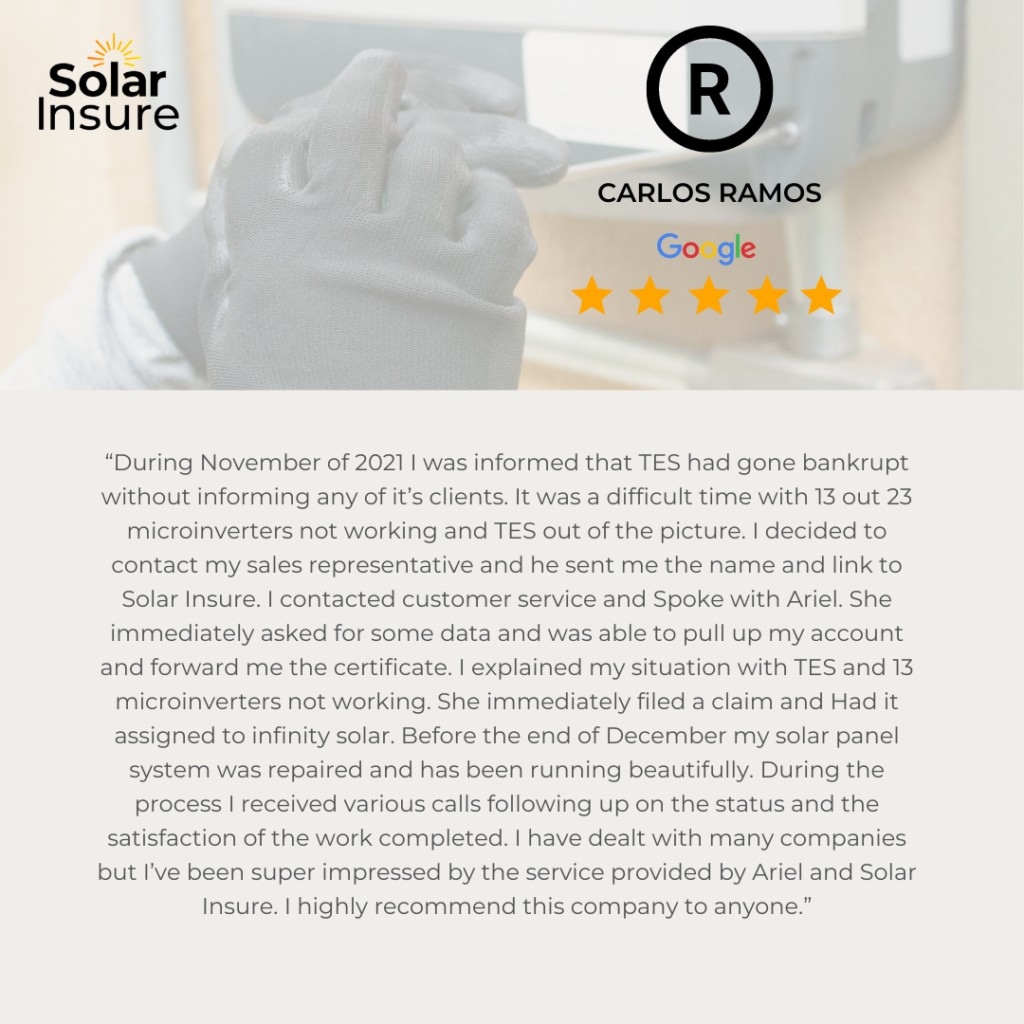 #4 Panels are sometimes defective
In some cases, a failed panel will not impact the overall performance of your system. However, at other times, a panel failure could cause adjacent panels to fail, creating a more noticeable decline in power production. Since panels can run up to $300 or more, replacing several panels without a warranty could become an expensive proposition. When panels fail, you will want to be covered so that repairing and replacing them are required, and the burden of cost doesn't fall back on you. Racking up a whole new bill for panels that you've already purchased is a major sting that can be easily avoided with the right solar monitoring and warranty.
Here's a lesson on panel issues and why having the right support is key from John Hernandez: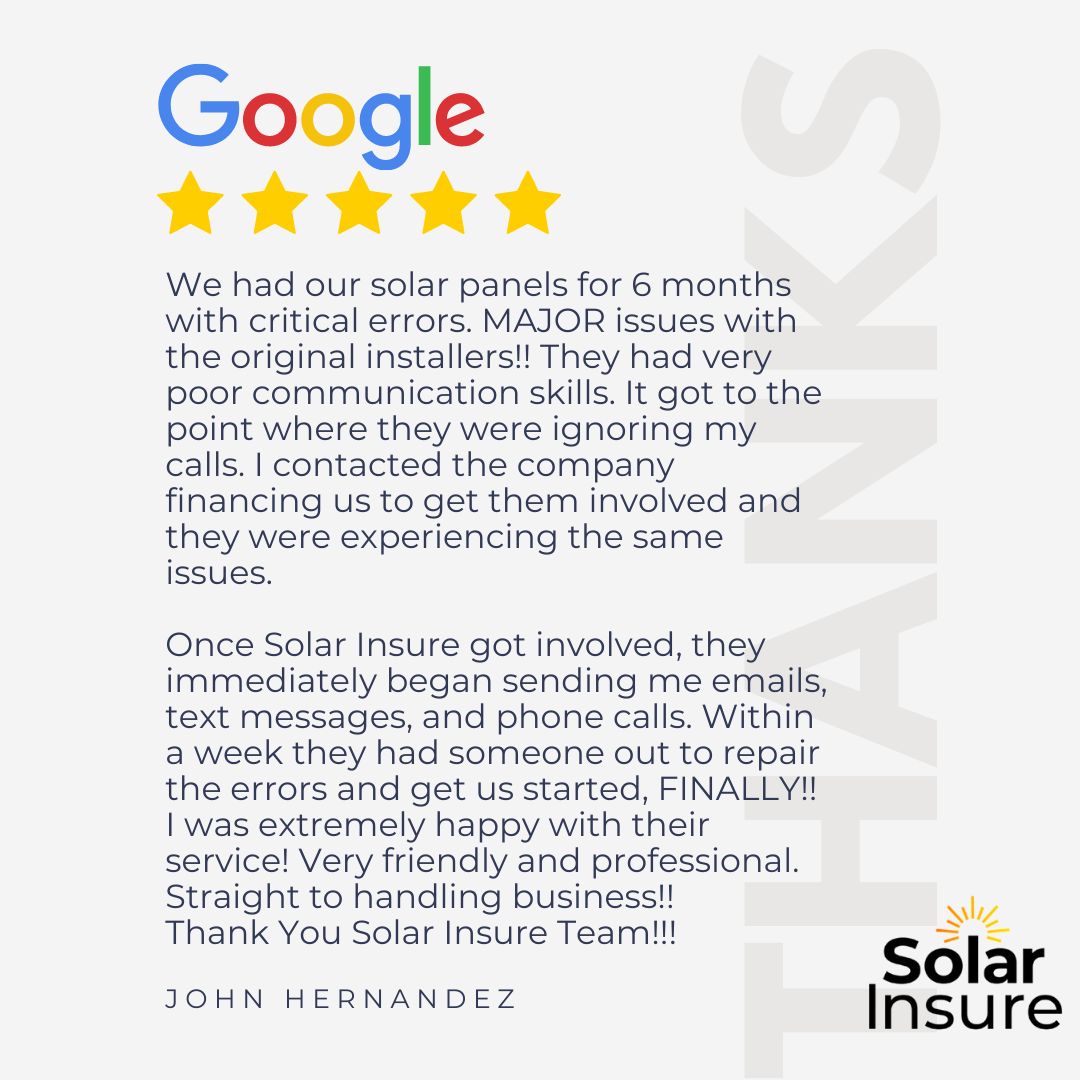 #5 Manufacturers can go out of business
There are many pressures manufacturers face in such a dynamic and growing market. Between 201 tariffs, supply chain issues, and other factors, even the best manufacturer might decide to close their doors or stop producing solar panels.
One large manufacturer recently shut down panel production in order to refocus on battery storage production. They made this decision based on anticipated supply chain challenges for solar panels. This particular manufacturer has vowed to continue serving its panel customers, but what happens to your coverage when a manufacturer closes altogether? That depends on the manufacturer and how they choose to handle the transition. Often homeowners are left to deal with out-of-pocket expenses and failures that arise.
With Solar Insure's 30 Year Monitoring and Warranty, if the manufacturer of your panels goes out of business, you're protected and will have no out-of-pocket expenses. This protects you from political, financial, and other unpredictable circumstances that may cause your panel manufacturer to shutter.
A lesson from Derek Turner on removing pain points for solar customers: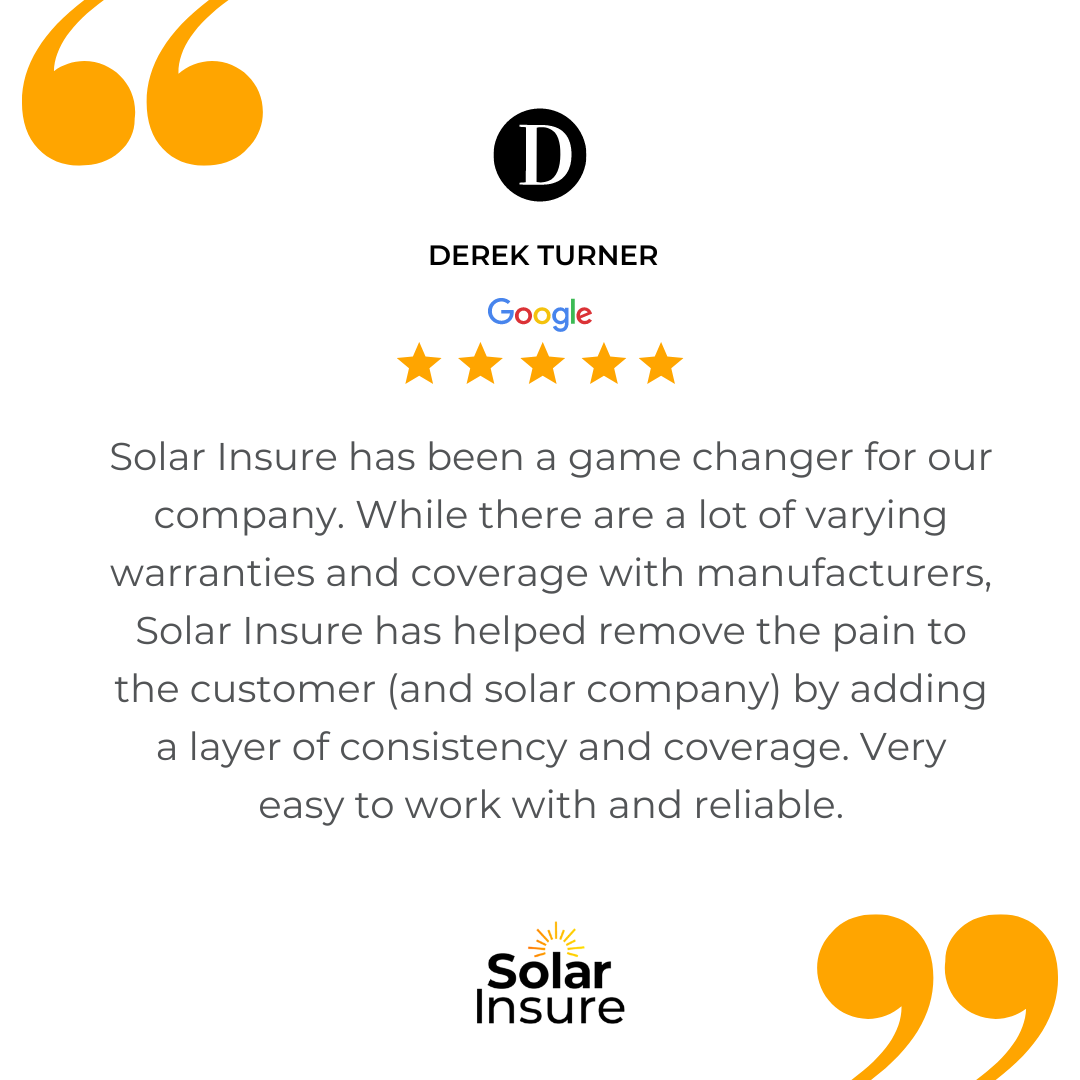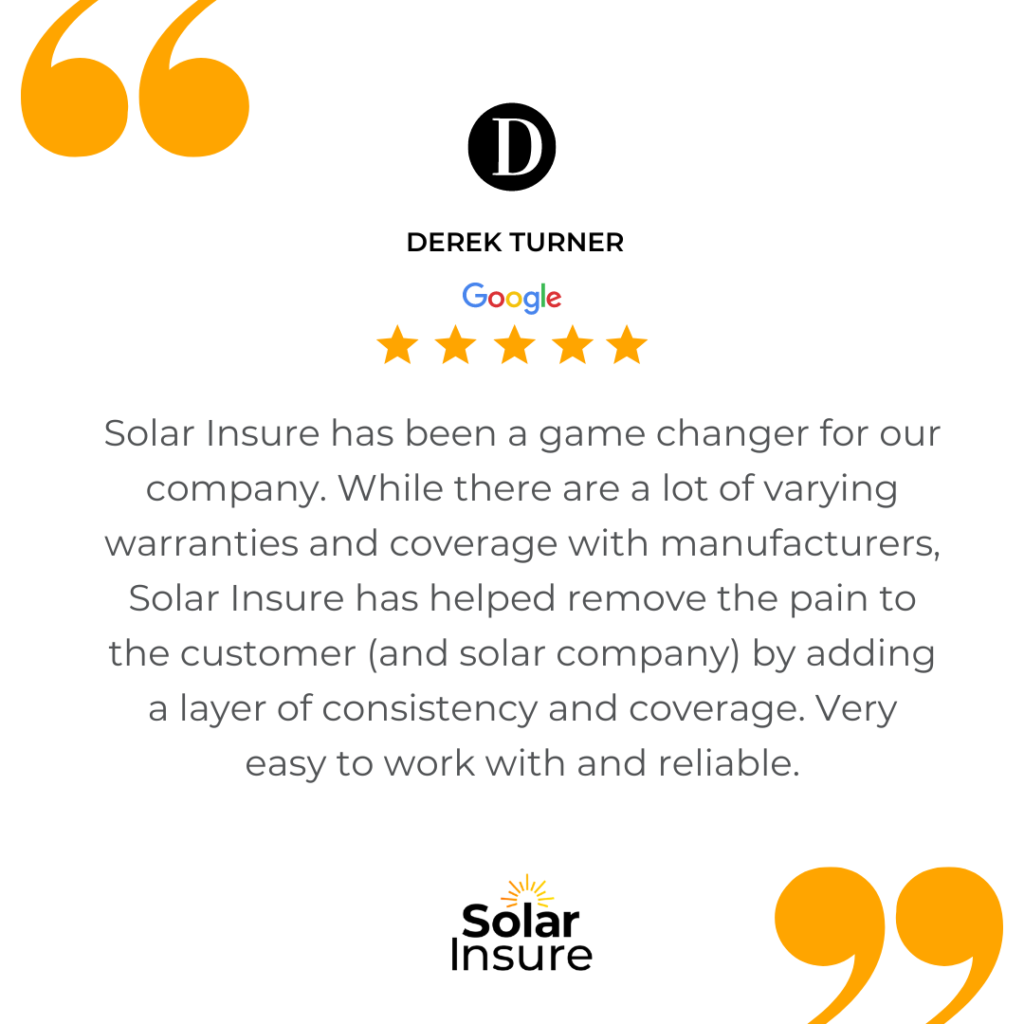 #6 Eliminate out-of-pocket expenses
Solar panels, inverters, optimizers, and monitoring expenses can all add up over the lifetime of your system. But there's no reason to expect these costs to come out of pocket when you've evaluated the value of getting coverage at the time of your installation that spans the entire life of your panels. Solar Monitoring and Warranty will help you hedge bets in your favor because you never know what can happen and don't want to be caught off guard with out-of-pocket expenses that you may not have budgeted for.
A tip from Juan Gonzalez: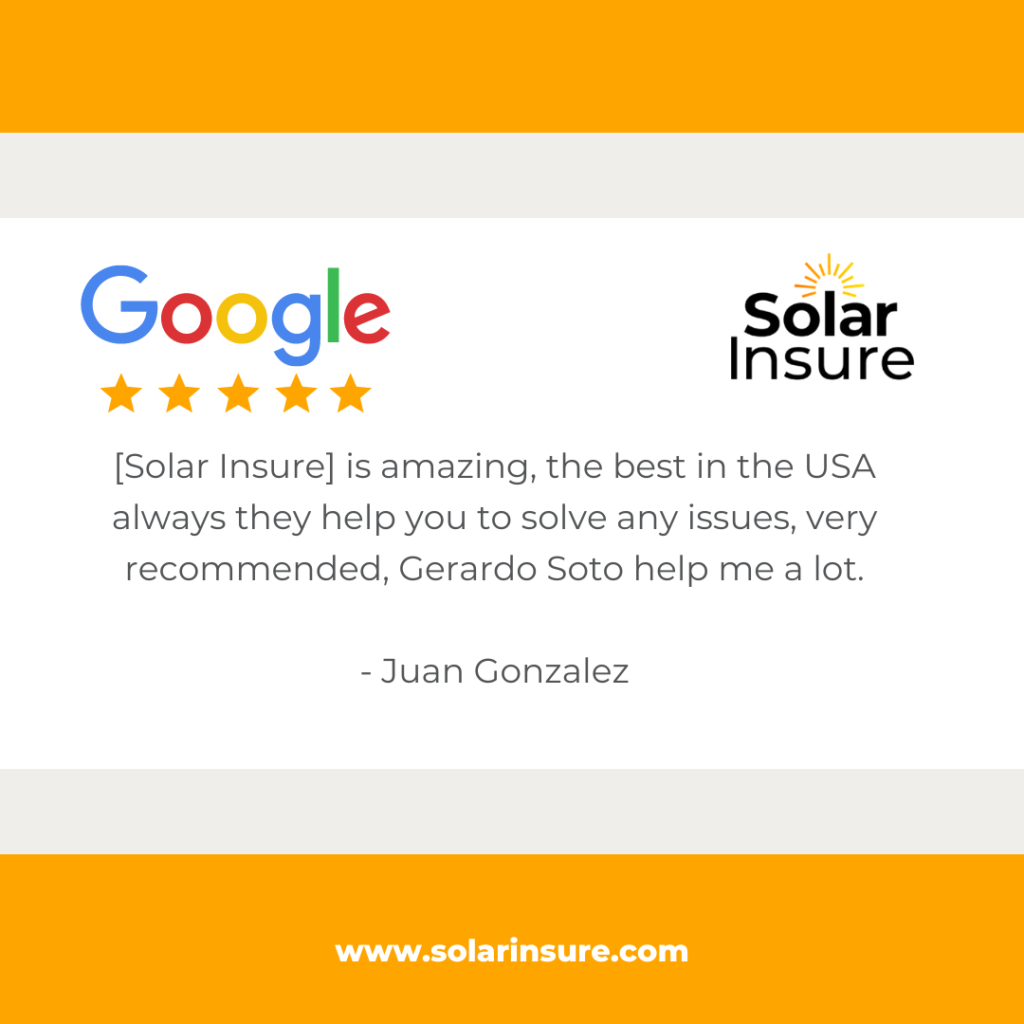 #7 Solar Insure Monitoring comes with a 30 Year Warranty
When sourcing your own solar monitoring software, services are usually charged on a monthly basis. With Solar Insure Monitoring, the service is automatically a part of your installation and includes a warranty. Monitoring is seen as a value to all, the homeowner, installer, O&M company, and Solar Insure. When your system is getting the maintenance and repairs it needs, it minimizes bigger problems down the road.
A tip from Jason Humphrey: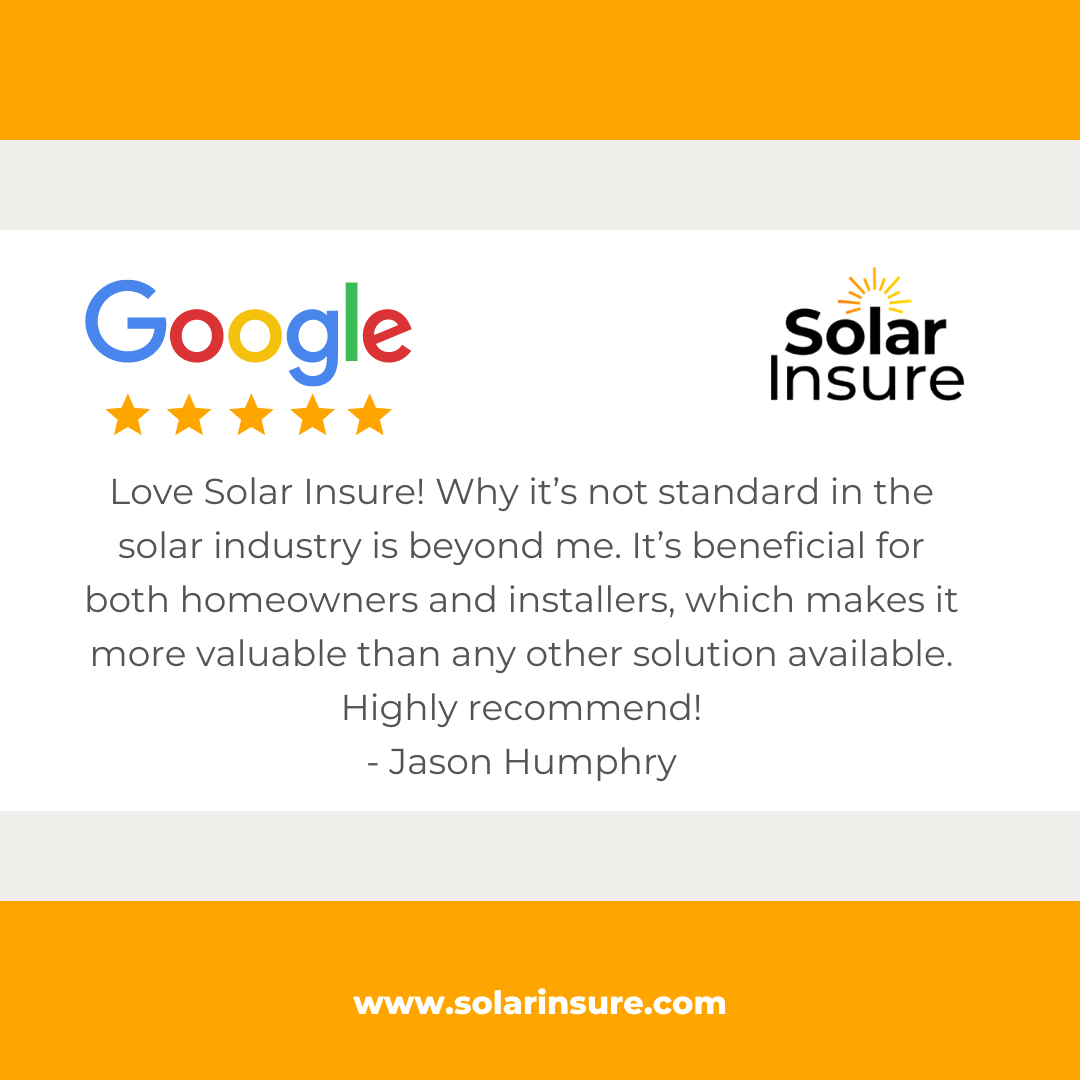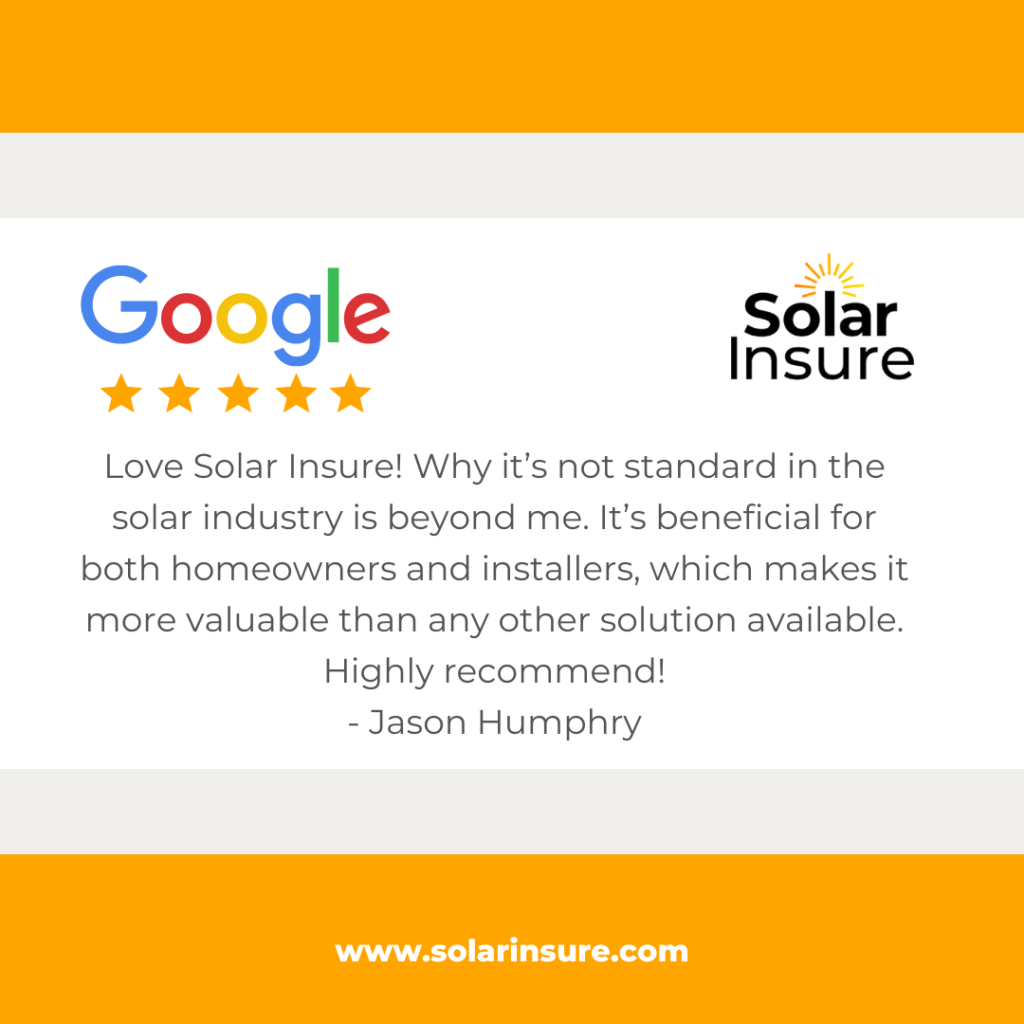 #8 Installation companies can go out of business
Bad solar installation companies close often; great solar installers can easily merge or get acquired. Any way a solar installer handles their business, M&As and closures happen all of the time in the Solar Industry, for a variety of reasons.
In the case where a company merges or gets acquired, many times, the new company doesn't honor or take care of the previous warranties, leaving homeowners holding the bag on coverage. This occurrence is very damaging to the integrity of the Solar Industry because there is little recourse.
To prevent being left without support, the Solar Insure 30 Year Monitoring and Warranty covers your panel system if your installation company goes out of business. We'll use our network of vetted partners to conduct repairs when needed and continue the coverage you need to keep your solar panels up and running. Learn more about how you're protected if your solar company closes here.
A lesson from homeowner Roger Pena whose installation company went out of business and used Solar Insure to get back on track: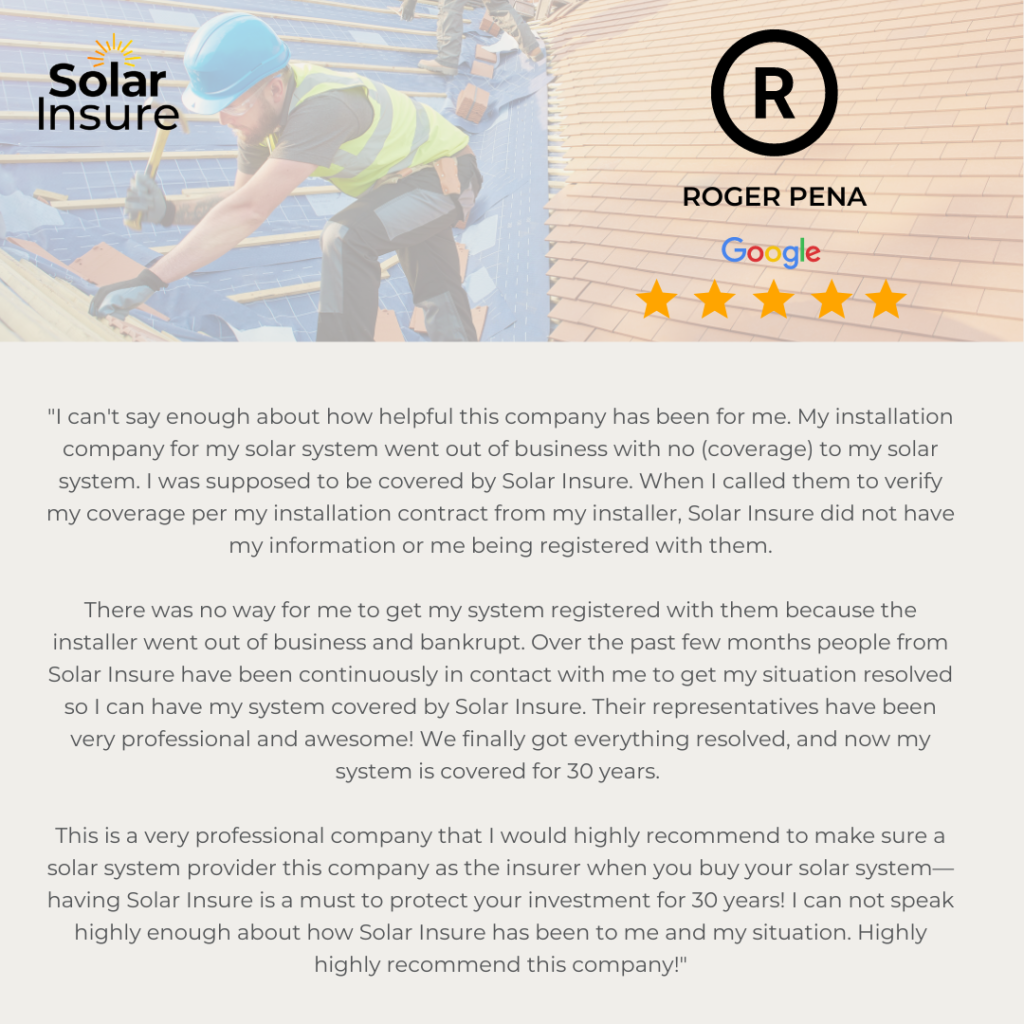 #9 Installation costs are an investment; warranties protect your investment
With home solar installation costs in the thousands to tens of thousands, protecting solar investments is key to getting the greatest cost-benefit from your system. Whatever the reasons you chose to go solar, you likely wanted the best system for the best value. When choosing the most valuable solar monitoring and warranty, you'll want to continue that same strategy – value.
With solar monitoring and warranty, you save money, time, and the headache of handling solar panel issues yourself, like tracking down repair needs and the right repair company. All of these things are handled for you with a network of vetted partners, all interested in helping you get your solar panels up and running as well as protecting your investment.
A tip from Kevin Broom: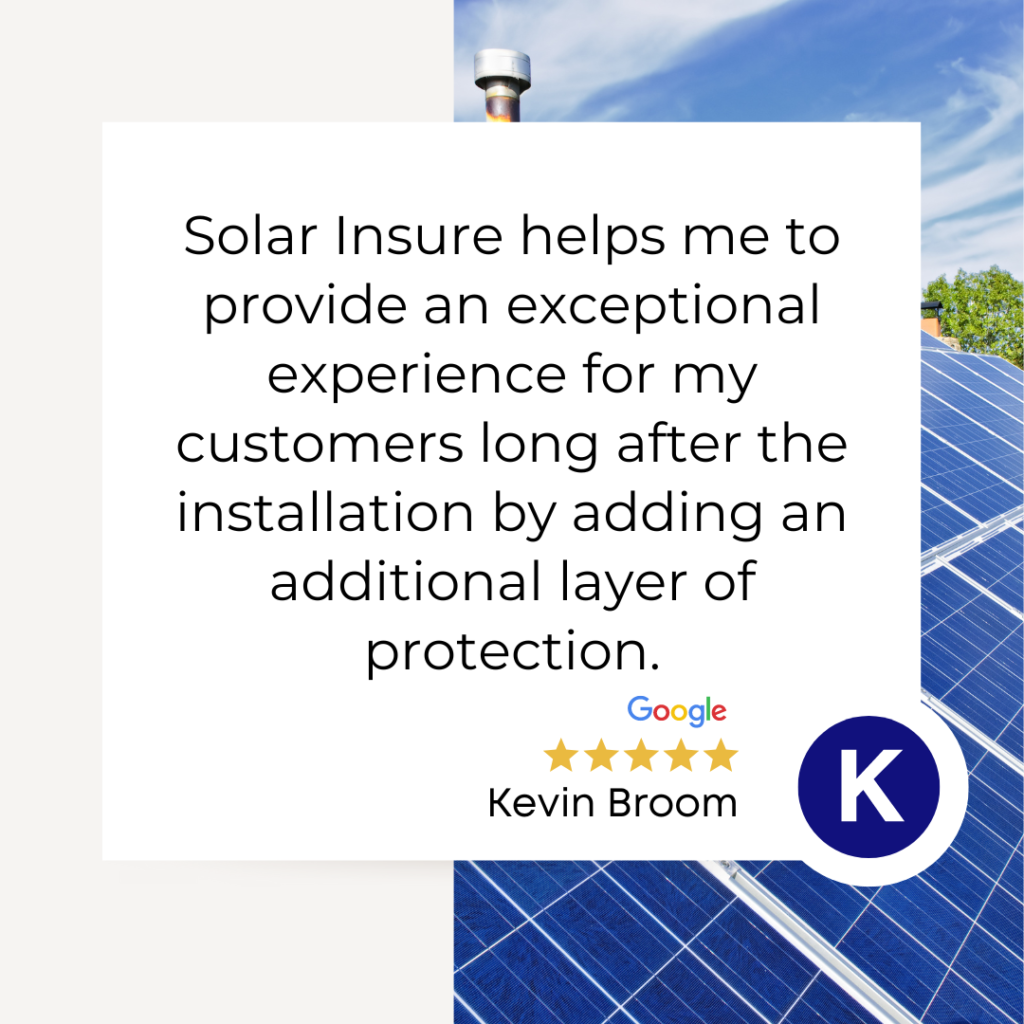 #10 Transferable warranties make homes with solar easier to sell
Solar warranties make a home with solar panels easier to sell. In our guide to selling and buying a home with solar panels, we explore this topic at great length for both the seller and the buyer. 
Warranty limitations and void clauses vary from company to company, but transferability is the key point you want to look for, especially if you plan to sell your home in the next 30 years. Even if you don't plan on selling, being prepared in case that status changes will put you in the best position for the future, ready for anything.
Transferability means if someone buys your home (and, therefore, your solar panel system), will you be able to easily transfer the monitoring and warranty over to them. The more diligent you are when installing your panels, the easier and more efficient the back-end can, like having monitoring and a warranty that transfers an unlimited amount of times to new owners, free of cost.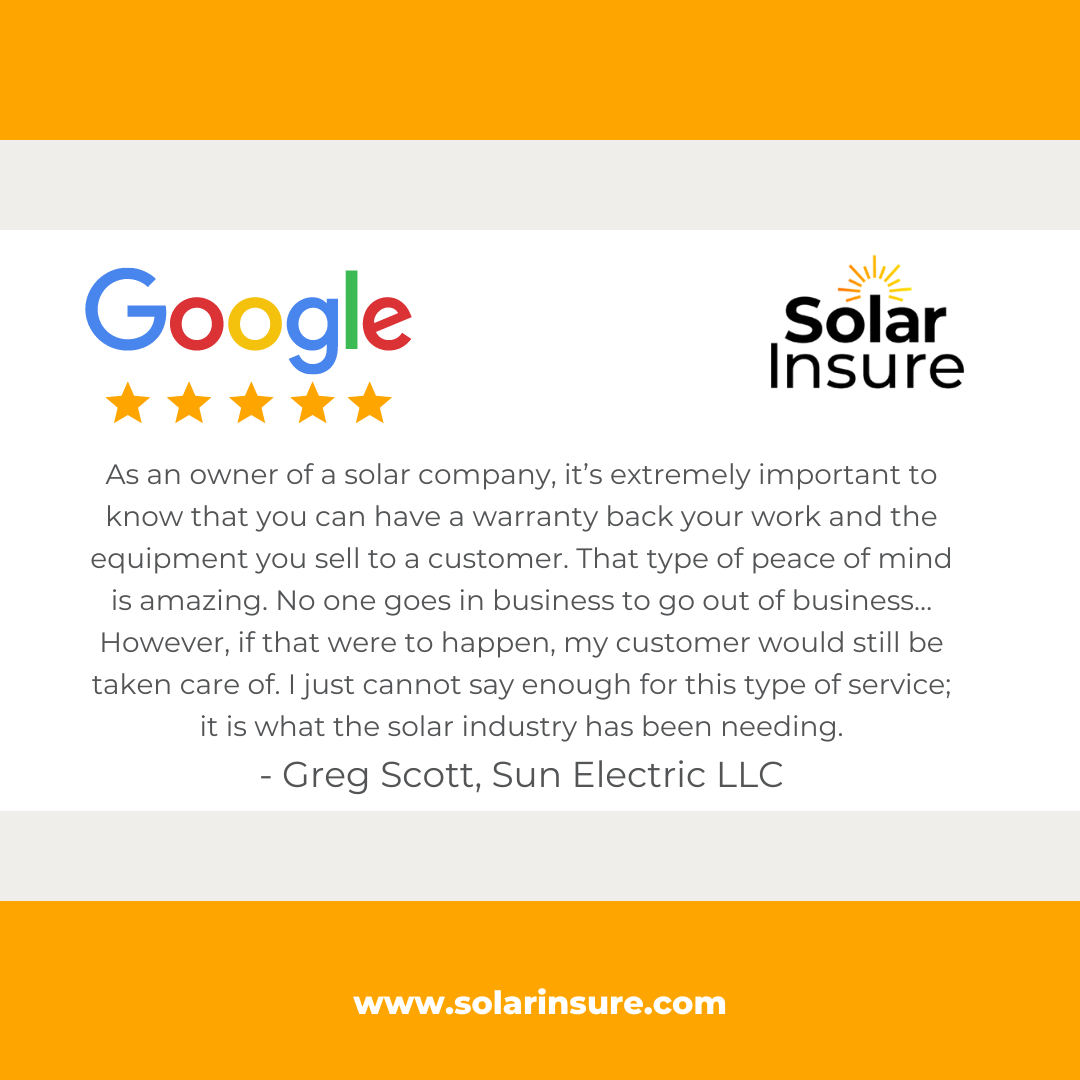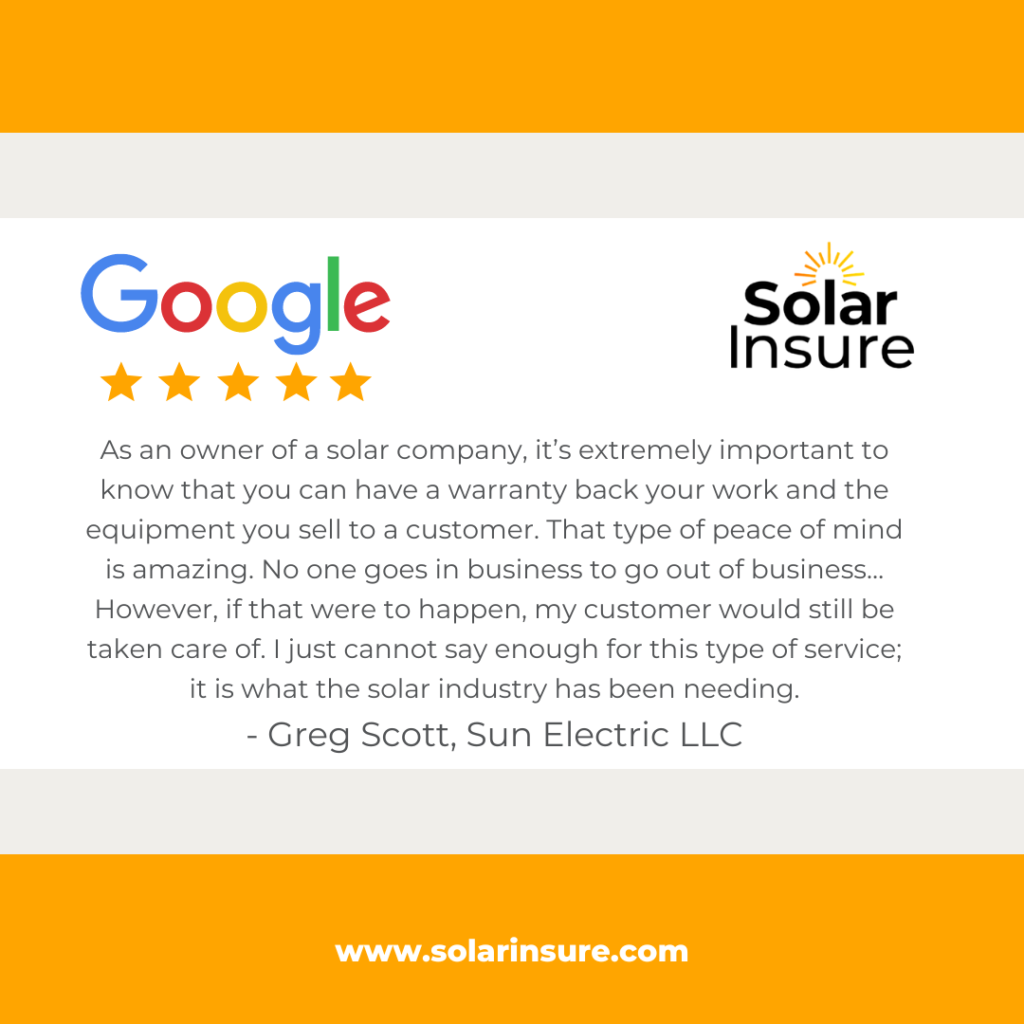 #11 Roof penetrations & may need repair
While our preferred roof penetration vendor, QuickBOLT, has never had a claim in 30 years, anytime a drill is made through a roof there are risks involved. These types of issues are either covered by the contractor's general liability or homeowner's insurance. Solar Insure covers up to 3 inches from the original penetration point. Either way, you'll want to be sure you're covered in case a roof penetration repair is needed.
That's a roundup of 11 reasons why you need a solar warranty. From fault equipment to businesses that quit, you want to be covered for the span of issues that can arise that you might not have thought about. That's why Solar Insure has done the heavy lifting and delivers the longest, most comprehensive coverage that has thought about those unexpected issues that arise. That's why we offer a 30 year warranty on breakdowns, normal wear and tear, replacement, and product failures.
Looking for a reputable installer? Demand the badge! For homeowners looking for a trustworthy contractor with a long record of solar installation success, look for the Solar Insure Partner Badge. Our rigorous application process for our vetted partners is a tool for homeowners to leverage. We only work with top-tier installers and we only approve top-tier solar equipment. Work with one of our partners, and you will see the difference.
Ready to get the solar monitoring and warranty you need to protect your investment?
Apply to become a vetted partner >
Learn more about Solar Insure protection if you're a homeowner >