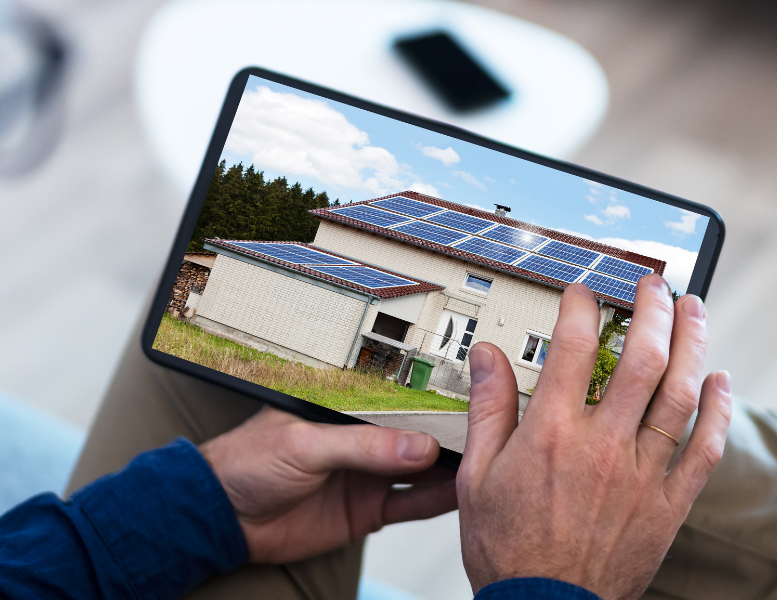 Based on Zillow Economic Research of comparable homes, on average, properties with solar energy systems sold for 4.1% more than those without. It's great that so many more people want solar systems, and homeowner confidence in owning solar is solidifying. We're here for this momentum, and a big part of this is giving people the peace of mind that their solar systems will be running optimally, and when they need coverage, their systems will be repaired. Solar warranty coverage has become a simple and easy process that shines a bright light on solar enthusiasm for everyone.
Whether you are buying or selling a property with a preexisting solar energy system, there is important information and benefits that will be helpful for all parties to know. Buyers and sellers alike will want to know who owns the panels. Find out who the manufacturer is, whether the manufacturer is still in business, and if there's a warranty, what is included. For passing on ownership, find out whether the panels are paid off, if the system has been financed, and what type of loan is associated with the system. You will want to know the solar data and whether it may be worth looking into battery storage.
The benefits of investing in solar panels touch many areas, including; economic, personal health, quality of life, safety, emergency resilience, and environmental. Having a helpful guide as a seller or buyer can add transparency to the solar buying or selling process, which is important to properly evaluate the risks and the rewards of taking on a home with solar panels.
We created this guide that will help when selling or buying a home with solar panels & knowing what to ask about solar warranty transfers and protecting your solar investments.
How does a transfer of solar panel ownership work?
When you buy or sell a property with solar panels, the easiest route for all is when the solar panels are fully paid off. This is the ideal situation for a smooth transfer of ownership.
If you are buying or selling a home equipped with a leased solar system, this could mean a third party owns the system. As a seller, you will want to attempt to transfer the lease to the new potential owners. Sharing the benefits you received with the solar system may be a great way to help new owners feel confident in taking over the payments. Inform then on the details, like if the third-party owner covers issues since they are leasing solar panels. This releases the new homeowner from paying out of pocket for repairs, leaving them only to consider regular cleaning maintenance, which may be a selling point for some.
Here's the general process:
The homebuyer signs an ownership transfer form
An attached credit application is sent to the solar company
Once approved, there's a new lease transfer, and the new homeowner will take over the payments
The seller and buyer will sign over ownership; the new homeowner will take over new ACH payments
An interconnection approval from the utility must be received
If you go the secured loan route, the rest of the loan will need to be settled. If an unsecured loan was the option you chose, as long as it is not tied to the property, you could sell the home; however, you remain responsible for paying off the loan.
It would be great to include this guide in your home buying and or selling process. Print it, screenshot it, and share it with the seller or buyer; these are the questions you want to make sure are answered and fully understood.
Questions to ask when buying a home with solar:
Is the solar energy system owned or leased?
Companies that manufactured the panels?
Who installed the system?
What are the warranty terms? Can I get extra warranty coverage?
How big is the solar energy system?
Is net metering available?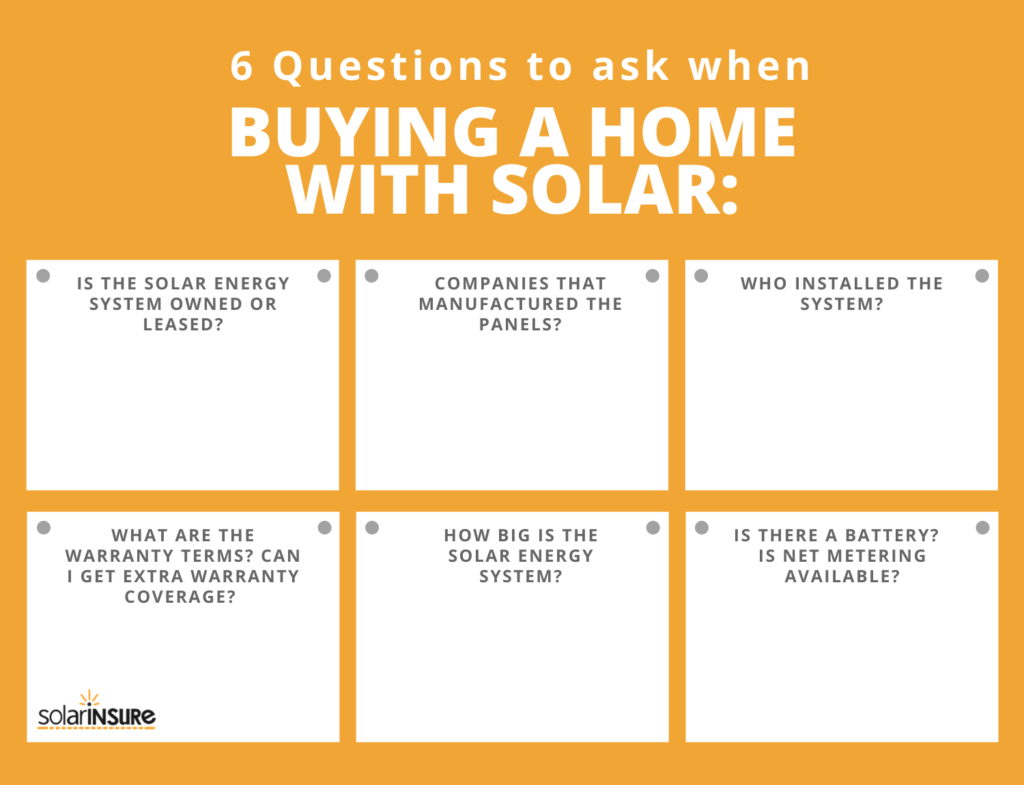 What are the benefits of selling a home with solar panels?
Depending on who you ask, you will encounter countless reasons a person wants to get solar, and the benefits may differ for each of them. When that time comes, and you decide to sell your home, whatever the reason is, you most likely want to sell your home and receive the biggest offer. Solar may be an added value to a home, and a Berkeley Lab study found that buyers were willing to pay $15,000 more for a home with a solar system.
A solar system may increase your home's value and help your home sell 20% faster. This means everyone benefits, including appraisers, real estate agents, mortgage lenders, sellers, buyers, and not to mention the environment. One very common value point, especially as the cost of fossil fuel continues to climb, is the promise of lower or no electric bills.
As a seller, you can inform the new buyer of the cost savings you're currently receiving on your electric bill with your clean energy source. The knowledge of a reduced carbon footprint is another selling point for some buyers. Sellers now have the advantage of selling their home at a higher price point, at a faster rate, with the potential to receive their total ROI of what they put into the system.
What are the benefits of buying a home with solar panels?
When it comes time to buy your home, and the property you choose comes with a preinstalled solar system, you have significant benefits to reducing your energy bill. You are doing an outstanding environmental service, reducing your carbon footprint, and relieving our collective reliance on fossil fuels.
With more severe weather conditions affecting energy grids and rising energy prices, investing in renewable energy, particularly solar energy, can put you and your family in a better position. One step further is investing in battery storage, putting yourself at a decisive advantage in energy independence. As EV cars surge in popularity and gas prices skyrocket, charging your electric vehicle at home from your own panels will make much more sense heading into the future.
Whether you have solar panels or a solar system with battery storage and an EV to charge, you want to make sure your entire system is equipped with the best warranty so you can enjoy the benefits of your solar investment.
What could be the drawbacks of buying or selling a home with solar panels?
The biggest drawbacks of buying a home with solar panels could be if the warranty doesn't transfer or transfer with a fee, if the panels are broken or are not in good condition, and if the solar system is leased (depending on the type of lease or loan the owners have). You will want to know how your home loan works before you put in that offer, such as a Property-Assessed Clean Energy Loan (PACE), if the system is leased, or if the system is a Power Purchase Agreement (PPA). Finding out your system's warranty, quality, and financial obligations is an essential piece.
Going solar is an excellent investment, as long as you evaluate the circumstance you're acquiring the new panels. The drawback of buying or selling a home with solar panels is just a matter of finding out from the home inspector what the condition of the panels is and having this list to remind you to request a copy of the solar panel maintenance history.
What do you want to make sure is in place before selling a home with solar panels?
Selling your home is already a big job, especially if it's your first time. There's a lot to remember, and if your home is equipped with a solar system, there are some additional items you want to make sure to have prepared for a smoother home sale process. Having the answers to the questions above for buyers to make an educated decision will be key. In addition, preparing a list of environmental and financial benefits that are backed by data from your energy bill will capture enthusiasm among potential buyers.
Did you know going solar: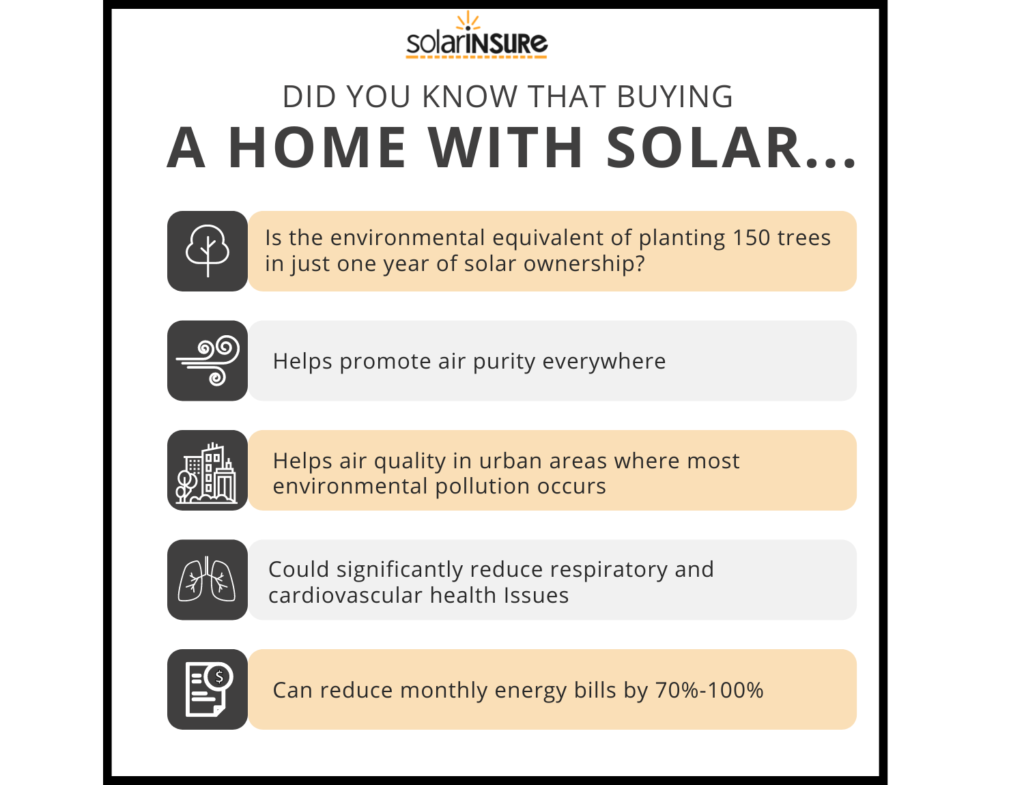 These solar benefits can help demonstrate the success that your solar panel home can offer buyers. After all, who doesn't want to gain energy independence and save a lot of money by avoiding rising energy costs? Even better if the buyer has an EV.
Here's a quick list of things to set yourself up for success before selling your home and solar system.
1. Have information on who your solar installer is. If the installation company has a great reputation and is a reputable installer, definitely bullet point that out for your buyers and let the selling agents market this advantage.
2. Provide a solar panel and system maintenance report so buyers know you took care of the system they are inheriting.
3. Be transparent about the ownership of your solar system. Are you leasing? Then it will be easier to buy out the remainder of what you owe on the lease. This will make the selling process easier to handle. If it doesn't make sense to buy out your lease, be prepared to transfer the lease to the new buyers.
How does a solar lease or PPA transfer to a new owner?
Sometimes a PPA is used for a household to go solar. However, consider things if you are purchasing a home where the previous owner has a PPA lease. Find out what the PPA buyout provisions are. Often you may have to wait seven to ten years to buy out and gain ownership.
In the best-case scenario, you want to ensure you have ownership over your system. You want to have the tax advantages and as little risk as possible. Having a solid warranty on your system may be a drawback if you have a PPA-style lease.
How easy are warranty transfers for solar owners who are selling their homes?
Upon buying a solar system, have an open dialogue with your solar installation company and ask them to explain your warranty clearly. Ask about the manufacturer warranty process and what that looks like when transferring the ownership of the solar system and the warranty agreement. The answers will be a different process if you own versus lease.
What are the restrictions on warranty transfers?
When you sell your home with a fully paid-off solar system, in most cases, the warranty will transfer quickly to the new owners. You will want to contact your solar warranty provider and know what that process will be. Certain leases could bring about specific restrictions on warranty transfers.
Solar ownership is delivering energy independence coupled with the growing battery storage market, and homeowners are increasingly taking energy plans into their own hands. Protecting your solar investment systems is key to longevity and increasing the potential for buyers to take on your system should you decide to sell your house.
As a seller, you want to be helpful and informative by letting potential buyers know about the details of your solar system as well as the warranty process to make the transfer seamless. The buyer's goal is to make the best decision and minimize the risk of buying a potential liability while maximizing all of the beneficial outcomes that solar can bring.
Got more questions? Feel free to reach out to our reps, and they can answer your questions. If you're buying or selling a home with a Solar Insure Monitoring and Warranty, our seamless process requires no additional cost.
Resources
http://emp.lbl.gov/publications/exploring-california-pv-home-premiums
https://public.tableau.com/shared/T9TSSQP4N?:showVizHome=no
https://www.solar.com/learn/do-solar-panels-increase-home-value/
https://www.nrel.gov/docs/fy07osti/41998.pdf
https://www.consumerreports.org/energy-saving/real-cost-of-leasing-vs-buying-solar-panels/
https://www.zillow.com/research/solar-panels-house-sell-more-23798/