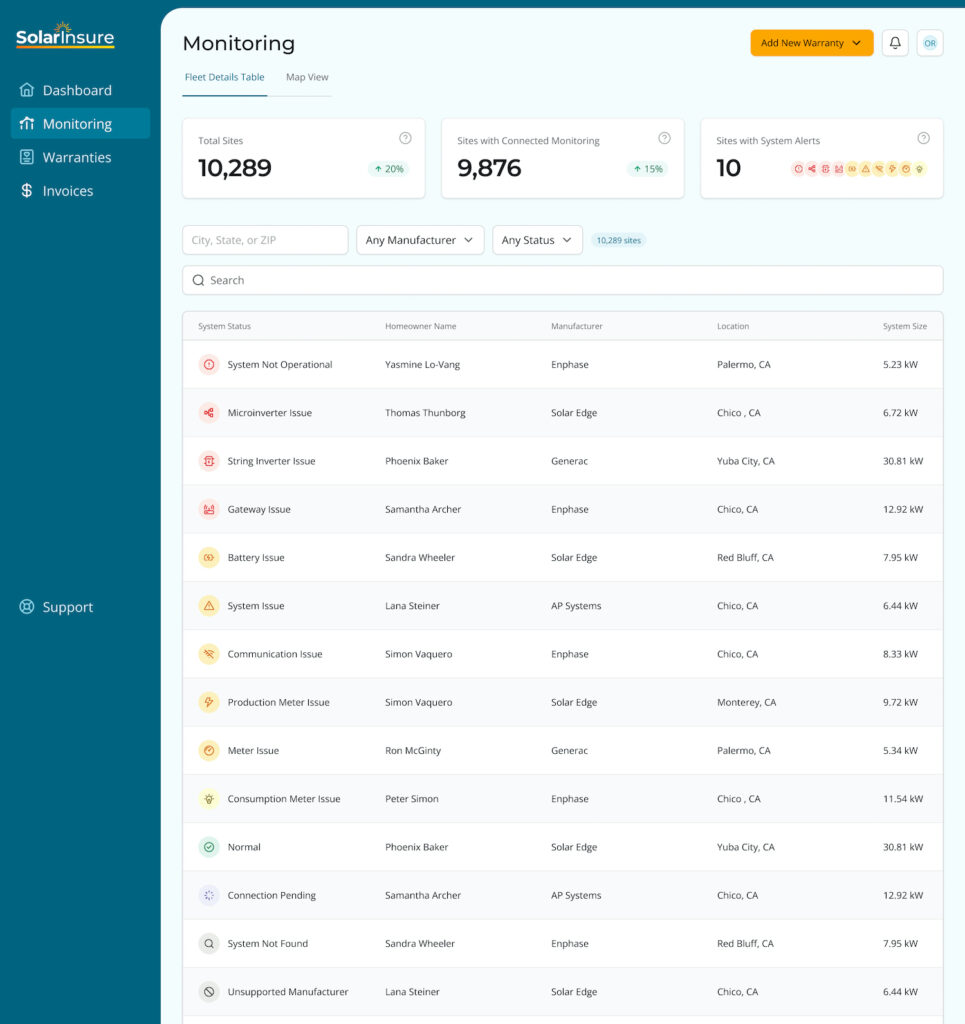 Solar installers often rely on system alerts to oversee the maintenance and repair of their customers' systems. The most effective installers utilize a monitoring system that goes beyond single manufacturer apps to streamline and enhance their business efficiency and post-installation income.
Solar Insure is developing an advanced monitoring system that will give installers an edge in management and the ability to connect repairs to a source of revenue for customers with the 30-Year Monitoring and Warranty. Many of the current monitoring system interfaces are centered on a specific brand and geared toward the homeowner experience. However, these separate login platforms can be time-consuming for contractors who must switch between screens and log in to multiple manufacturer platforms to access basic information across numerous accounts.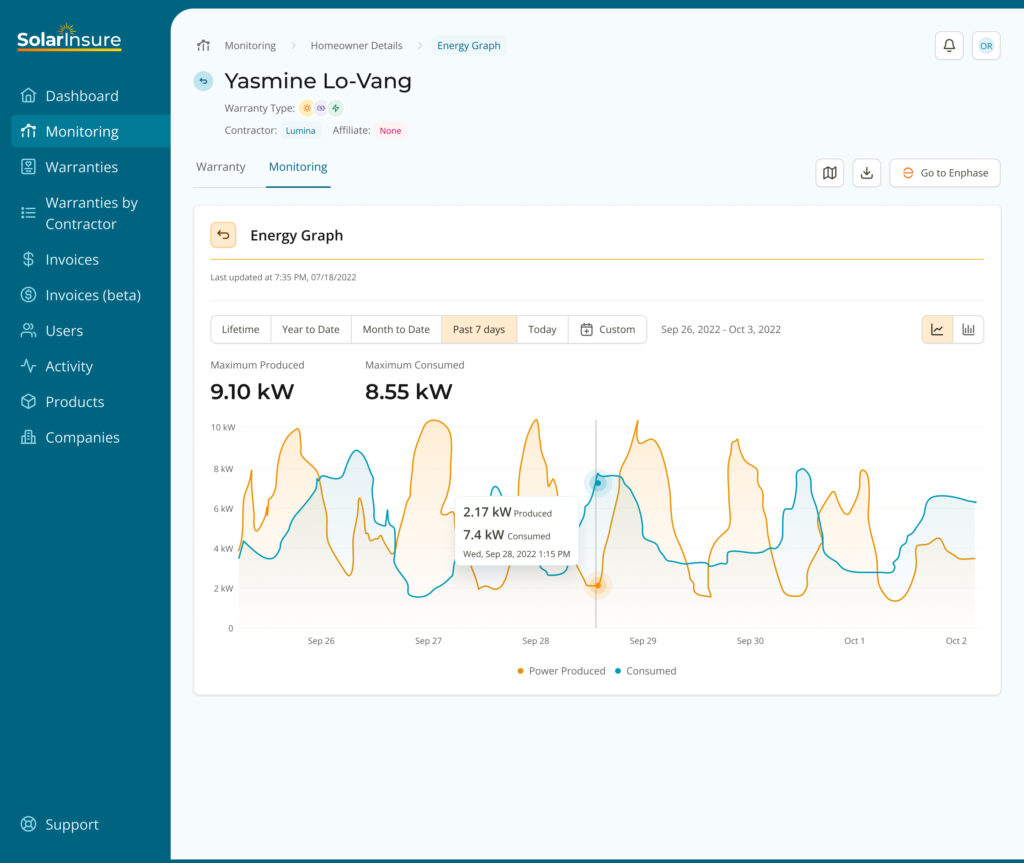 Solar Insure Monitoring is made for installer growth
Solar Insure monitoring software functions more like the Truebill app, enabling users to monitor multiple accounts across various apps in one location, providing a more efficient overview for repair prioritization. The first version of Solar Insure's Monitoring tool integrates with SolarEdge and Enphase, the inverter manufacturers most commonly installed for over 90% of our warrantied homeowners. Solar Insure has plans to expand manufacturer integrations to match their AVL list in the future.
Solar Insure Monitoring Software will soon offer additional features becoming automated, such as processing claims allowing installers to receive payment for repairs and truck rolls for homeowners with Solar Insure 30-Year Monitoring and Warranty.
Additionally, Solar Insure Monitoring will offer additional services tailored to solar installers' needs, allowing time-saving tasks to be performed automatically. As a result, Solar Insure Certified Installers will experience reduced administrative workloads, faster claim processing speeds, and the ability to maintain their reputation in the industry by providing exceptional customer service and post-installation support.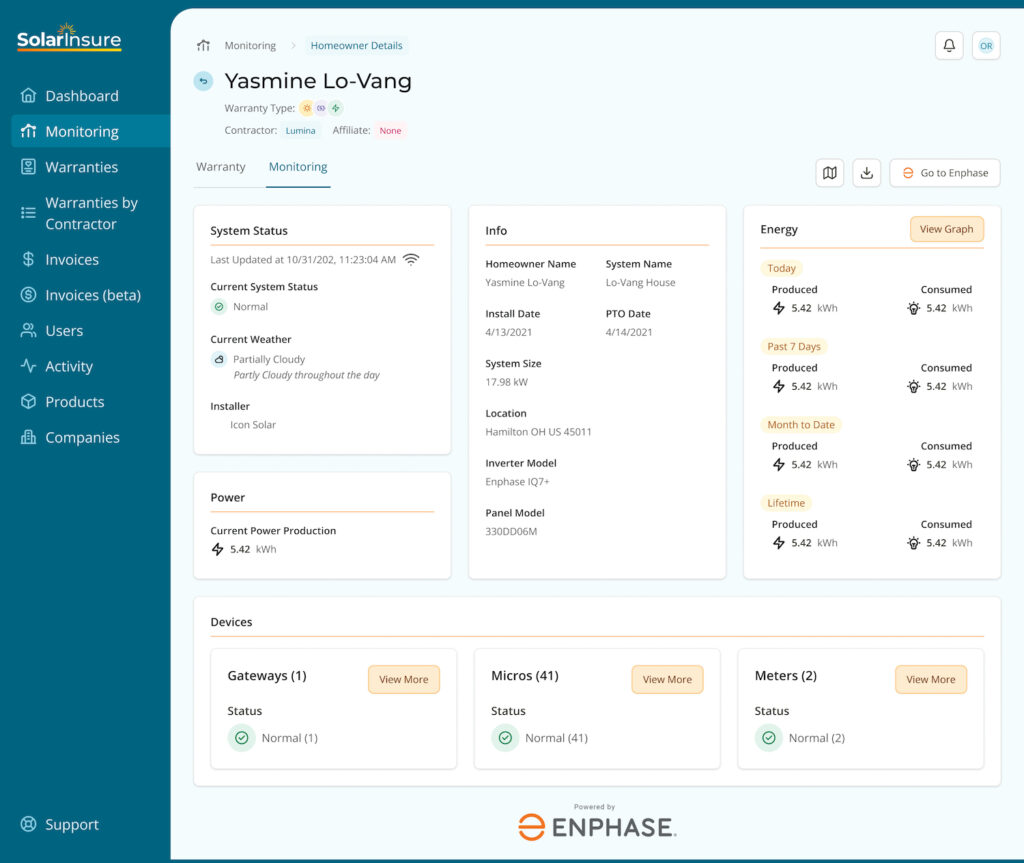 What is installer-focused solar monitoring?
For solar contractors, advanced monitoring is a tool that allows their team to view multiple accounts from the most utilized manufacturers in a single, efficient location. By consolidating information from each approved vendor platform into one central location, contractors can effectively assess and prioritize repair and customer service needs. Future monitoring systems will improve the automation of claims processing, requiring less manual input and leading to quicker payouts. Installers are a part of the development phase giving feedback and advocating for the features that will serve their businesses and fit their needs.
The first version of Solar Insure's monitoring product has limited homeowner coverage, with only qualified sites connected to Monitoring data. However, our engineering team is continuously improving coverage rates with the goal of connecting to the majority of systems by the end of the year.
Currently, the two inverter manufacturers with monitoring coverage account for over 90% of our warranties. We encourage installers to share their feedback and maximize the opportunity of making the Solar Insure Monitoring Software everything an installer needs to succeed.
Benefits of installer-centric monitoring software
Solar Insure Certified Installers can establish a financial structure for after-installation services work that may have previously been performed for free or had to be charged to the homeowner, leading to out-of-pocket expenses for customers. Solar Insure monitoring can increase revenue when connected to a warranty by enabling contractors to file a claim and not charge their customers for repairs. Customers are satisfied, contractors are paid for their work, and overall revenue is increased.
Reduced downtime
Solar Insure Monitoring Software is tailored to the contractor experience and leads to quicker resolution of homeowner solar repairs. Reduced downtime is a result of an easier-to-use, centralized interface that allows contractors to prioritize higher-priority repairs and schedule claims more efficiently. Post-installation repairs will be addressed more promptly, preventing homeowners from experiencing extended periods without functioning solar panels. Homeowners will also be spared the cost of paying out-of-pocket for service work when a warranty covers the repair.
Improved after-installation solar experiences ultimately make homeowners happy, leading to increased referrals and positive public perception of solar energy, resulting in increased sales and residential solar panel adoption.
Continuously improving features
Our engineering and design teams are continuously researching new features to improve the experience of our Solar Insure Certified Installers. Some of these features include admin-level reporting, built-in troubleshooting help, weather data, user-controlled alerts and notifications, fleet map views, and email reporting. The Solar Insure team will keep you posted about any new features rolling out on the Solar Insure platform and how to use them best to power up your solar business.
Interested in learning more about becoming a Solar Insure Certified Installer? We've got you covered. Click here to request more information.