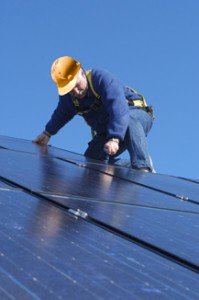 Solar Insure is a leading provider of insurance for the solar power and alternative energy construction industry. For contractors, owners, construction professionals, project financiers and special purpose companies throughout the United States, we offer the following products and solutions.
General Liability Insurance – Provides protection for bodily injury and property damage arising from your business activities.
Professional Liability Insurance – Covers engineering and design of solar projects, as well as paperwork related to tax incentives and local rebates.
Workers' Compensation Coverage – Provides medical and lost wage protection for your employees if they are injured on the job.
Equipment Floater – Protect the value of labor and materials of the work in progress in the event that it is damaged by theft, vandalism, fire, windstorm, etc. Coverage starts while solar panels are in transit to the jobsite and ends once the job is completed or the owner accepts the work.
Optional Mold Coverage Endorsements – Most construction-related lawsuits in the solar industry involve water intrusion. One small leak can cause major damage to a customer's roof. However, most commercial liability policies deny mold-related claims. Our comprehensive Solar Plus plan includes mold coverage in addition to general and professional liability coverage.
We anticipate trends and issues in the renewable energy industry and develop strategies to help our clients improve their risk profiles, lower costs and increase profits through customized risk management and financing options.