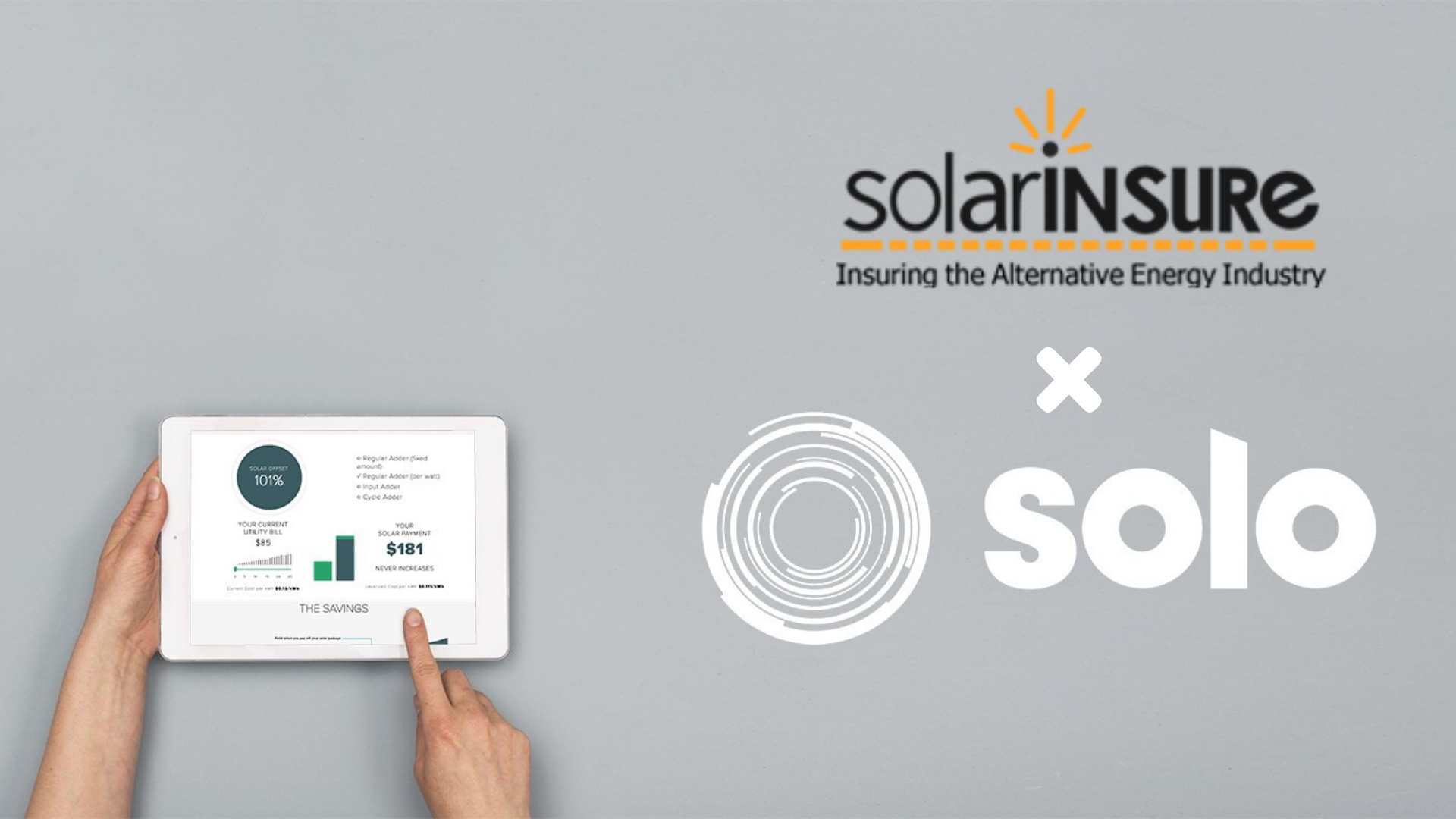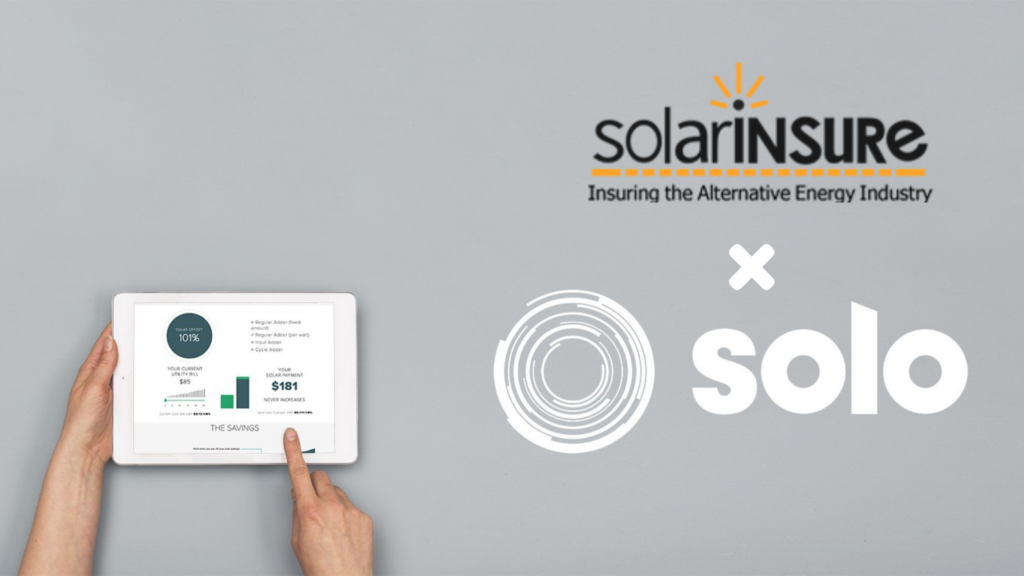 Jump to book a demo with Solo
The Solar Insure and Solo partnership powers up solar companies that want to scale. By offering a swift click addition for a 30 Year Solar Insure Warranty, companies that use Solo software gain speed, trust, and the ability to grow faster, landing more clients. Having the ability to instill both immediate and long-term confidence with solar clients is a must for survival in the solar industry. When it comes time to deliver a proposal, there are some key ingredients for getting faster sign-on and beating out the competition. Having a repeatable, easy to revise, streamlined proposal process means the difference between scaling and staying complacent, especially if you have multiple teams across geographic regions. Scalability is a goal to instill in your solar business plan from the outset.
In a Solar Simplified survey on consumer perspectives, participants considering solar gave various reasons why they did not sign on and move forward with their proposal. The most interesting part is that 43.8% of people who are on the fence say they will eventually move forward. This group is an untapped segment that, if delivered the right answers, protections and confidence would likely sign sooner rather than later. This is a segment ready for the right proposals.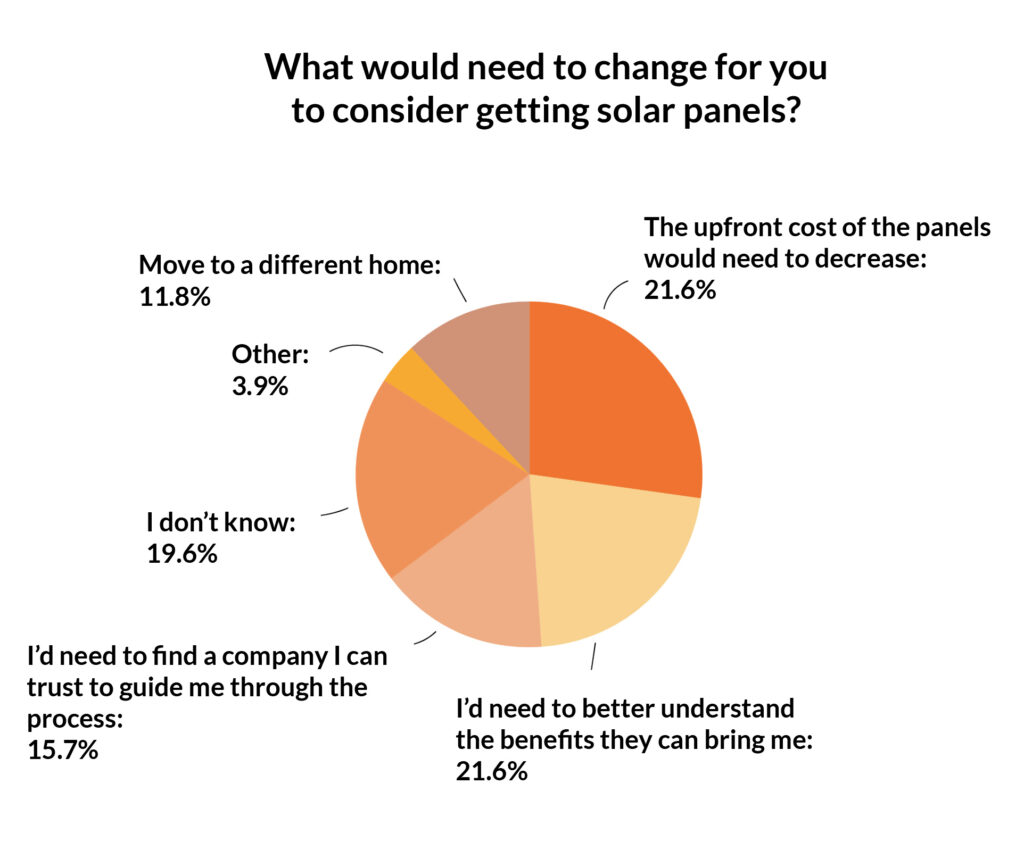 We work with many solar contractors, and while there's a host of excellent software proposal services, we chose to partner with Solo because of their dedication to scaling solar businesses. Our special partnership seamlessly brings Solar Insure's 30 Year Warranty to Solo's network of contractors, allowing for increased risk aversion and contract signing speed. Solo stands out as a solar contractor's go-to for the following features.
1. Turnkey, Scalable Software
Solo prioritizes growing solar businesses. They do so by focusing on delivering scalable, turnkey systems with everything a solar company needs to provide supreme customer-centric proposals. Their goal is to save solar contract teams time and money by harnessing a full suite of tools that meet every customer's needs. The key goals for Solo software include:
Save you both time and money
Provide you with a seamless, turnkey solution
Scale your company
Leverage the full productivity of your sales team
2. Streamlines entire sales process
Streamlining is a key objective for scaling solar businesses. You need accurate proposals sent fast that contain all of the components a prospect needs to decide. Most software focuses on the proposal alone, but Solo really thinks about the entire sales process that solar contractors go through:
Proposal
Document creation
CAD/engineering
Permit assistance
30 Year Warranty Solar Insure options
Closing and Contract signing
This turnkey system saves on hiring staff for each stage of the process and keeps costs down while forecasting expenses. The 30-year Solar Insure warranty add on feature streamlines the process and helps with faster sales conversions.
3. Built-in 30 Year secure Solar Insure Warranty Option
75% of homeowners say they are more likely to purchase solar when an extended warranty is provided. Solo proposals come with an automatic option for clients to add a one-time fee 30-Year Warranty from Solar Insure that is insurance backed. The benefits to this one simple click mean peace of mind for prospects. By having this feature, proposals become stronger because they can now deliver:
$0 deductible
100% transferable warranty
Full coverage on inverters, structural damage, solar panels, racking, roof penetrations, optimizers, and labor
4. Supports Multiple Installers
Solo's commitment to helping solar companies scale can be seen in their unparalleled ease of use and ability to customize customer needs quickly. Multiple installers can be integrated on just one account, which helps sales teams quickly indicate which installer they will use.
The software supports a network of sales teams and can be linked to your CRM, keeping operations and sales informed on customer progress.
5. DocuSign Included Integration
Many solar companies have a separate process or program for document signing. The Solo team thought of everything by hosting an integration with the DocuSign account in the software. Contractors won't need to toggle to another program or ask the back office for document support. All is included and can be delivered and signed in one sitting with the client.
6. Permit Application Support Included
While Solo doesn't yet offer permit submission, permit application support is included with every account in our CAD Service. The Solo team can help contractors apply for permits at no additional cost.
7. 24-Hour Turn Around with Solo's CAD Department
The Solo team delivers accurate files with a 24-hour service level agreement for standard CAD jobs when you need CAD/Engineering support. When it comes to more adders, batteries, and other increased complexities, the scope of work might require 48-72 hours. Nevertheless, having this supportive feature makes proposal CAD/Engineering delivery faster.
Reviews from Solo Users
It's one thing to talk about great benefits, but the proof is completely in the reviews of active Solo users. Here are some Solo user experiences, the growth is our favorite because it means more solar projects are being adopted, and more solar means we're making a measurable impact on the environment through our collective business efforts.
"Improved solar sales"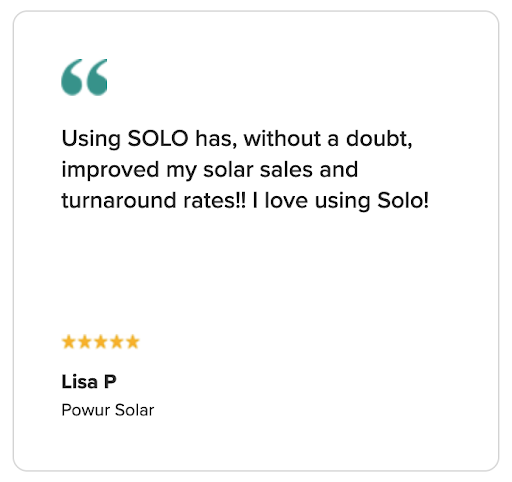 "Easy to understand proposals for customers…"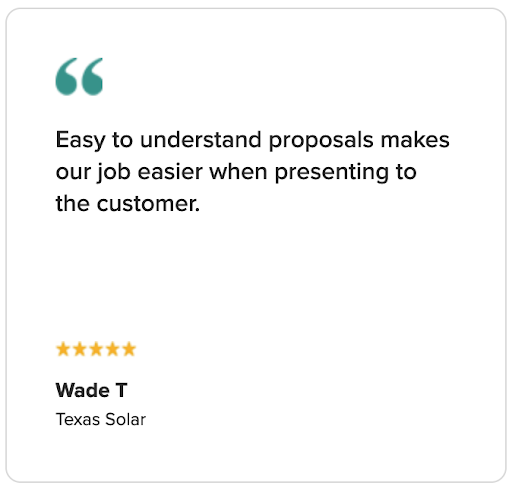 "Tools that show savings through the sales process.."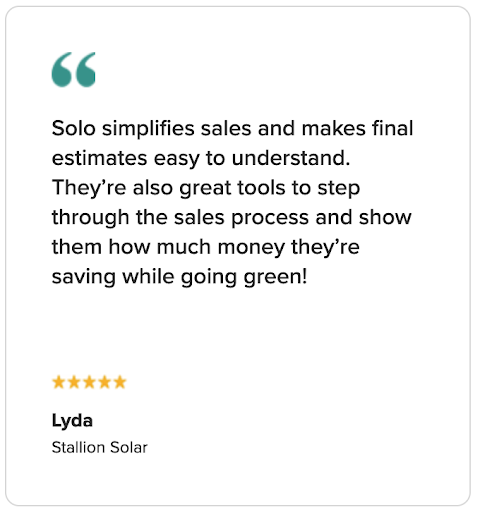 "Keeps reps happy and Proposals Moving Quickly…"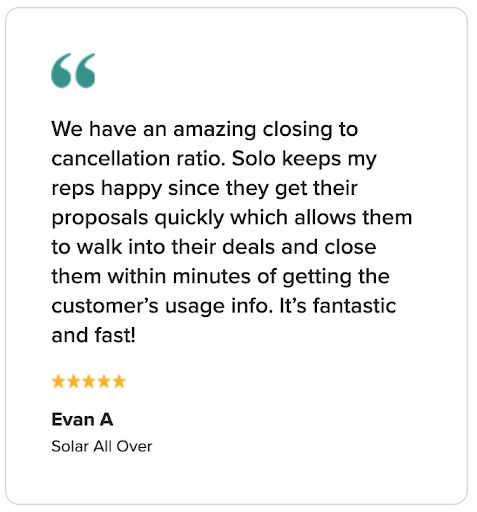 "3x – 5x Faster Proposal Alteration…"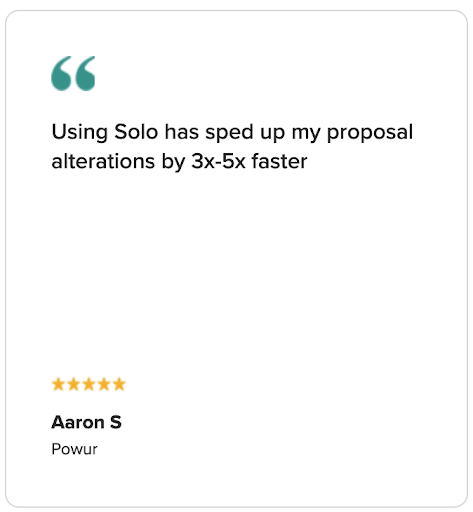 We're thrilled to partner with Solo to help solar contractors grow their business by delivering faster, more efficient proposals that bring confidence to every potential customer. Book a demo with Solo.