There are a number of financial incentives for installing and using solar power systems in the state of Ohio. Most cost-effective among these is the state's grant program, as it provides a substantial grant for installation of new solar energy systems.
Summary of Ohio Incentive Programs
•Federal Tax Credit 30%
•State Residential Grants to $25,000 - No Longer Available
•State Commercial Grants to $200,000 - No Longer Available

Ohio Grants
The Ohio Department of Development administers several different grant programs, each based on a different type of building or home.  There is a program for schools, governments, businesses, nonprofits, farms, and institutions that provides a grant of up to $200,000.  There is also a program for multi-family dwellings that supplies a maximum incentive of $75,000, and $100,000 for low-income certified housing. Finally, the residential program entitles homeowners a grant of up to $25,000.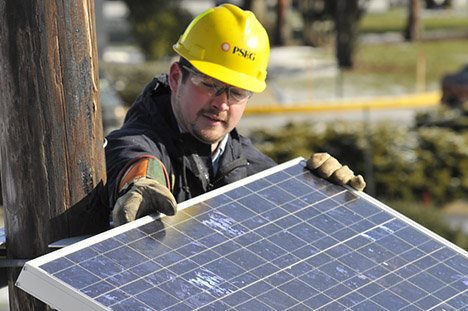 Separately, a program funded by the Ohio Job Stimulus Plan offers businesses, nonprofits, agricultural facilities, and institutions a grant of up to $250,000 for installing solar energy systems.
Ohio Rebates
Green Energy Ohio funds a program that gives schools and residences up to $2400 for solar system installation.
Ohio Tax Incentives
Tax incentives include a 100% corporate exemption. This exempts certain property from real estate taxes, state and local sales taxes, and the state's corporate franchise tax. The solar equipment is also not considered in basing the property tax value, or personal property taxation.  Cincinnati offers 100% tax abatement for 15 years to buildings constructed or renovated to meet LEEDS standards.
Financing Options
Ohio administers a loan program under the Ohio Job Stimulus Plan to fund the installation of solar power systems, with a maximum loan amount of up to $2 million. Hamilton County offers loans up to $50,000 at 3% below market rate. Additionally, the federal government offers numerous loan programs for converting to solar energy.
Further information can be obtained by visiting DSIRE:Database of State Incentives for Renewables & Efficiency.