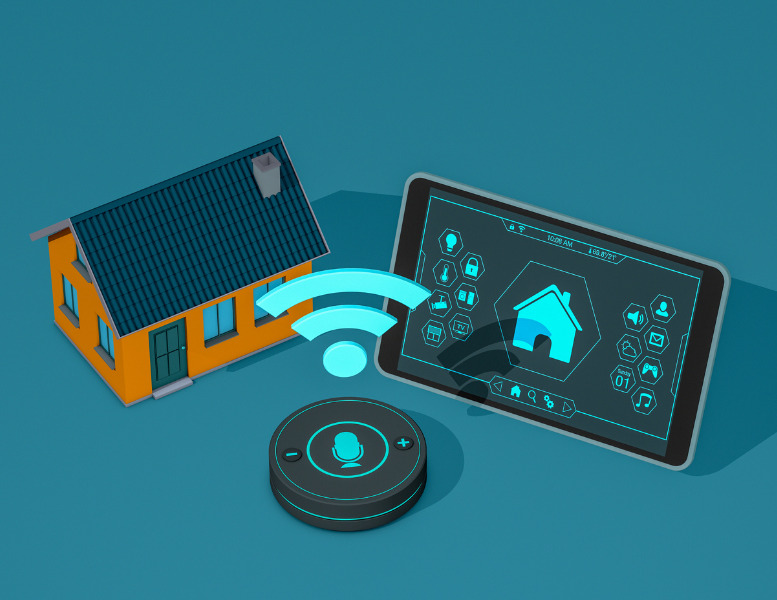 A grid-resilient home is designed to maintain essential functions during disruptions to the traditional electrical grid, whether caused by natural disasters, equipment failures, or other emergencies. Such homes are equipped with alternative energy sources like solar panels, wind turbines, or geothermal systems, complemented by energy storage solutions such as battery systems. Backup generators, energy-efficient appliances, and smart home technologies further enhance their self-sufficiency, ensuring the safety and comfort of occupants during grid outages.
Beyond energy resilience, these homes emphasize comprehensive readiness. Superior insulation and construction materials stabilize indoor climates, while water collection systems guarantee a steady water source. With measures like storing vital supplies and setting up backup communication channels, grid-resilient homes stand as fortresses of safety and sustainability in a volatile world.
The rising need for a grid-resilient home
The current advanced and interconnected grid systems are complicated, including tracking, detecting, controlling, and transmitting into a single network. Therefore, a breakdown in one part can result in a catastrophic collapse of many other components. Because of these factors, the current grid system is degrading and needs massive improvements.
A state-level review of data from the previous years demonstrates how increasingly common and severe weather instances are becoming. A severe snowstorm in 2021 threw the Gulf regions towards an energy shortage. Following that, hurricanes from the Atlantic plowed through the region (Hurricane Ida), severely destroying transmission lines across New Orleans. Blackouts were distributed unevenly throughout the country, as depicted in the figure below. With the rising number and impact of disasters, grid-resilient homes (for prevention, regeneration, and sustainability) are the future-proof homes to adopt.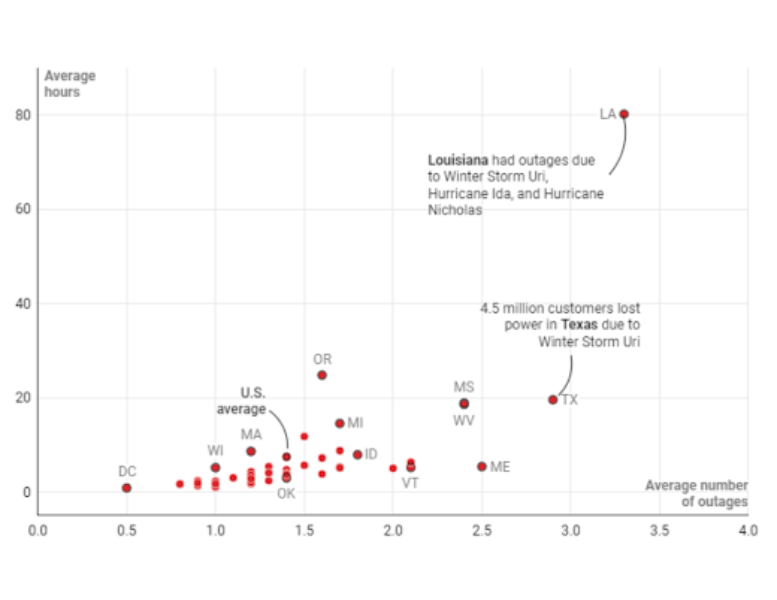 Figure: In 2021, hours and incidents of power outages, according to state (source EIA)Solar powered homes
To provide adequate space for solar energy systems that provide all of our country's power, about ten million acres of ground would need to be set aside, which is just 0.4% of the total land area of the US.
Solar energy towards grid resilience
Instead of being centralized, solar energy can be shared, or "decentralized". This implies that individual structures may accommodate their solar systems to provide all or part of their energy requirements. Communities may build a distributed energy system (microgrid) to operate vital systems on demand by integrating solar electricity with storage and other technological developments.
Battery storage for continuous power and load shifting
When energy production exceeds demand, batteries can store the surplus generated by clean energy sources such as wind turbines and solar panels. These batteries can then release the stored electricity when required. Bridging the gap between power supply and demand makes battery storage technologies a huge advantage for the connected home of the future.
Both household and business structures will become more power-independent by employing battery storage devices alongside rooftop solar panels or modest wind turbines. There are several ways to implement battery storage in your home energy system; learn more about them here.
The home EV charging evolution
Electric vehicles are gaining traction in the market, emerging as the new norm for automobiles, particularly in areas with incentives and rising fuel costs. Much like mobile phones, electric vehicles need regular charging to function optimally. EV charging involves replenishing the car's battery using a dedicated charger. Home installations of EV chargers make it convenient to power up the vehicle. Additionally, many solar providers now include home EV charging stations as part of their service offerings.
EV charging with home solar
One of the main advantages of having a roof-mounted solar system is the ability to charge an EV using your own electricity. Over time, charging an EV with energy from solar panels can completely offset fuel costs. This approach is ideal for countering potential grid power shortages and enhances the home's resilience to grid disruptions. Charging an EV with your own solar versus grid power or a public charging station is the most cost-effective of all the options.
Vehicle-to-grid (V2G) technology
V2G is a technique that allows power from an electric vehicle battery to be returned to the electric grid. A battery pack could be charged and drained using vehicle-to-grid systems depending on indications like near power production or consumption.
Bi-directional functioning is getting more significant as power retained within car batteries is considered for use in powering the home during periods when power outages due to extreme weather conditions or when power cost is high, and it will be a source of grid resilience.
The role of IoT in creating the ultimate connected home
A smart home integrates internet-connected devices for automated control and surveillance of systems like heating and ventilation. The advent of IoT (Internet of Things) has spurred major advancements, particularly in the realm of smart grids. These grids encompass comprehensive sensing, dependable distribution, and intelligent processing.
Adopting an energy management system is pivotal for creating a fully connected home. This system helps users pinpoint peak power consumption times and offers strategies for energy conservation. By harnessing contemporary IoT technologies to manage these systems, homeowners can significantly reduce both their costs and ecological footprint.
Both federal and local governments recognize the importance of energy efficiency. They offer incentives for homeowners adopting energy-efficient measures, underscoring the significance of grid-resilient homes. Such homes are becoming increasingly crucial for every American consumer.
The future of connected homes & a grid-resilient society
The grid-resilient connected home ensures that homeowners have power even during severe weather storms and through natural or manmade power disruptions. By converting to grid-resilient homes, we can reduce unwanted power downtime with the help of clean energy solutions.
The grid-resilient home will be environmentally friendly as compared to traditional energy sources of the grid (like coal-fired power plants, incinerator WTE, and other non-renewable sources).
Businesses may use the Technological Resilience Navigator to identify resilience flaws and offer solutions to reduce the likelihood of power outages.
Using interconnected solar technology, monitoring, and warranties can help homes and communities become more resilient by integrating and protecting solar power with storage for power outages.
Due to the rising demand for energy, increasing climate change-related natural disasters, and grid failures, we need to adopt grid-resilient, connected homes.
Ideal connected homes will be integrated with solar power, battery storage, and electric vehicles to overcome the threat of grid problems. It will save on energy costs and solve some of our greatest environmental problems by reducing carbon emissions.