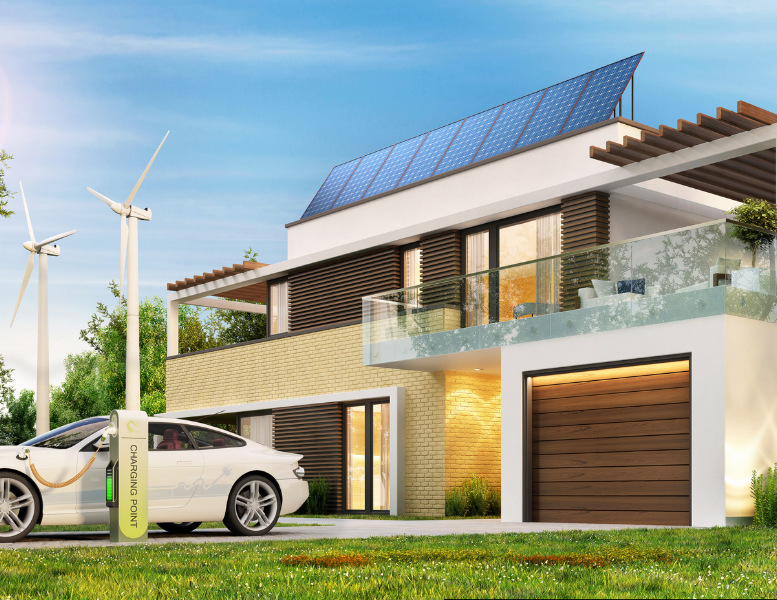 In this post, we will answer the following questions:
What is Solar Monitoring?
What do solar monitoring systems track?   
How do solar monitoring systems work?   
What is solar IoT Tracking, and is it different from regular tracking?    
What are the benefits of solar monitoring systems?   
What is the best monitoring system?
At Solar Insure, our core passion is connecting customers with renewable energy backed by 30 years of confidence. We help solar businesses and their customers leverage the full potential of a system that can be relied upon. Every Solar Insure warranty comes with additional security and preventative repairs via Monitoring. 
We know firsthand that solar energy adoption requires reliable, hard-working, and efficient equipment in order to get the results we expect from our solar PV systems. A major part of getting the most from our system is making sure all of the installed equipment is operating optimally. This requires solar monitoring of efficiency, output, and all components. It's important to know about solar monitoring systems and how they work to deliver a better performing system overall.
What is Solar Monitoring?
A solar monitoring system helps evaluate a PV system's performance by delivering information about:
Energy consumption
Energy generation
Optimizing energy usage
Damage to equipment
Faulty parts
Solar panels have been quietly generating energy from sunlight on our rooftops for decades, saving us money and helping the environment. They're also silent whenever there's a problem. A monitoring system becomes our eyes and ears to ensure everything is running smoothly, which is why monitoring systems that check the performance of solar panels and inverters are important for getting the most out of our panels. 
There are several ways to keep track of solar panel performance, power consumption, power generation, and efficiency. Here are some of the techniques that have historically been used:
1. Directly connecting a computer to the inverter. Each solar manufacturer has different software for monitoring that is downloaded and installed directly from the manufacturer's website. Using a Bluetooth device or a CAT5 wire, a computer is plugged directly into the solar inverter. This is a low-cost and effective approach, particularly for logging data.
2. Connecting the inverter to a mobile device. With developments in solar technology, we can now control the quantity of solar power generated by solar-powered devices using our smartphones. As most solar energy converters include Bluetooth connections, they can easily be linked to smart devices, making monitoring solar power performance much easier.
Wireless solar power control is possible with this method. Additionally, information can now be seen online through a dashboard or via text message based on the settings.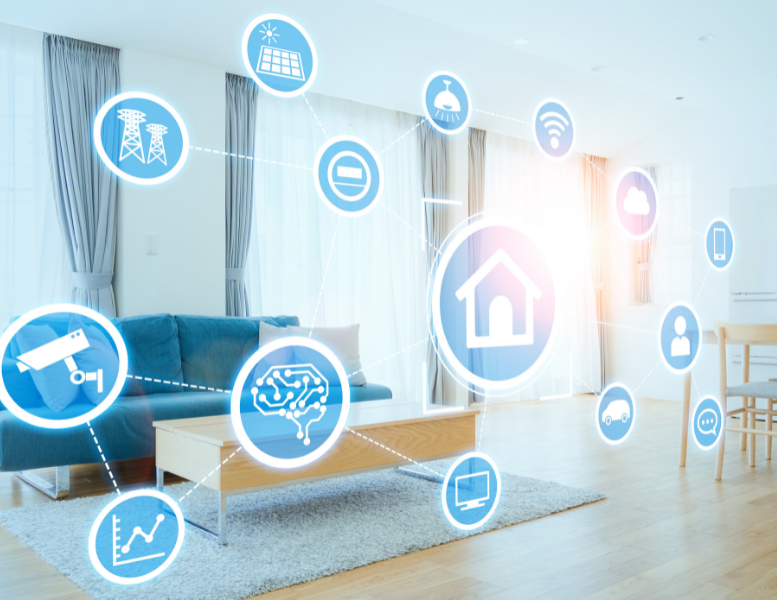 3. Connecting the inverter to a monitoring display unit. This is one of the initial techniques for tracking data from solar panels. What makes this technology special is that it collects data through integrated solar power inverters that directly display on a monitor screen.
4. Connecting the inverter to a router. Internet-based monitoring enables solar power generation data to be delivered to a router and makes it freely accessible online. Each user is provided with their own password and pin to quickly obtain information about solar power through online access and connection to the solar energy inverter data. 
What do solar monitoring systems track?
Solar monitoring helps ensure our solar systems perform at their peak by tracking the amount of power generated in real-time, notifying users of overproduction and underproduction.
The solar monitoring system can track the following parameters if equipped:
Equipment failure
Solar power production 
Solar power consumption
Grid metering (imports and exports energy)
Electric measurements (current, voltage, and power)
Weather conditions (temperature and solar irradiance)
How do solar monitoring systems work?
Solar-based systems capture production and energy outputs data as the DC from the solar cells is converted to AC by the solar inverters. The data will then be forwarded to a cloud-based solar power tracking system and corresponding apps.
The solar system owner can use smartphone apps or connect the smart device to access the data. On-site monitoring is also available with some solar energy monitoring devices.
What is solar IoT Tracking? Is it different than regular tracking?
The Internet of things (IoT) is a web-enabled system made up of devices that collect and deliver data using computers, sensors, and other hardware devices. We can establish machine-to-machine or device-to-device connections through IoT without the need for human intervention. It also makes use of computational resources and software tools to process data.
Since the amount of radiation from the sun is not constant and can vary depending on location, duration, and environmental factors, solar panels that are monitored via IoT-based tracking systems can be additionally helpful. Below is a flowchart of how an IoT monitoring system works. 
Compared to other solar tracking devices, it is cheap and widely available.
To do certain operations, various micro-controller modules/shields and sensors are accessible, while in regular tracking systems, they are limited.
Both internet and local server/storage services are supported, which is not available in other tracking systems.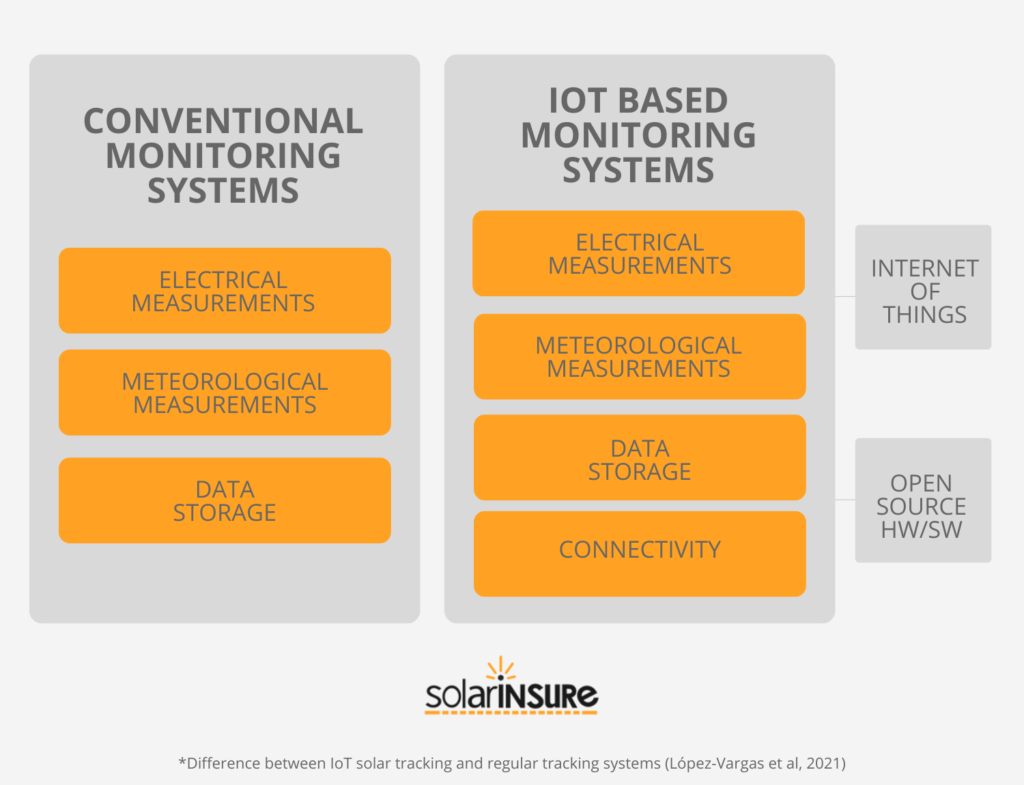 What are the benefits of Monitoring?
Prevents major maintenance issues and outages.
Aides in preventing the need for unexpected solar panel replacement.
Maximizes solar power production [operating at the highest capacity versus lower capacity with broken parts].
Assists in extending the life of panels.
Increase the value of panel ownership for residential, commercial, and industrial (C&I) solar panels.
Can benefit from lowering household energy expenditures.
Help prevent power interruptions by alarming us when something happens to the system.
Tracks climate data from the past, allowing knowledge of extreme weather event predictions that will affect solar panel device power generation.
Controls power expenses through green energy sources.
What is the best monitoring system?
Evaluating the performance of a PV system through monitoring provides advanced knowledge that helps prevent bigger issues down the road – making monitoring well worth the investment. There are a few options for monitoring that mostly deliver the same information. Solar panel owners can source solar monitoring in various ways; the fee structure is often a monthly subscription fee. 
The Solar Insure Monitoring includes a 30 year warranty, and the cost is embedded in your solar purchase. By taking advantage of the proactive repair needs that come as alerts on a system, Solar Insure can keep customers' solar panels operating to their fullest capacity even when a solar manufacturer becomes insolvent.
Monitoring from Solar Insure reduces administrative costs for installers by monitoring and, in the future, automatically filing claims when a repair is needed.
Learn more about the other benefits that come with a software monitoring system backed by a 30 Year Warranty from Solar Insure, whether you're a prospective partner or a homeowner. Get the most from your solar investment by relying on zero deductibles and coverage for parts and labor. 
Resources
M.Mahbubur Rahman, J. Selvaraj, N.A. Rahim, M. Hasanuzzaman, Global modern monitoring systems for PV based power generation: A review, Renewable and Sustainable Energy Reviews. Volume 82, Part 3, 2018, Pages 4142-4158, ISSN 1364-0321.
https://doi.org/10.1016/j.rser.2017.10.111
https://arxiv.org/ftp/arxiv/papers/1111/1111.1605.pdf
https://www.researchgate.net/publication/355124487_Review_on_Advancement_in_Solar_Photovoltaic_Monitoring_Systems