It's Here: Get Ready for Solar Insure Daybreak, the Solar Insure Platform Update
Our software product is about to release a major update with a new and improved user interface design. The update will bring a fresh, modern, and intuitive experience while maintaining the same core workflows and functionality you rely on.
Register warranties with greater ease, keep track of your invoices, and monitor your fleet's health like a pro.
Improved User Experience
Efficiently tackle any task with our new and improved platform.
Improved navigation for easier and faster task completion

Streamlined design for improved usability and productivity

Simplified layout for a more intuitive experience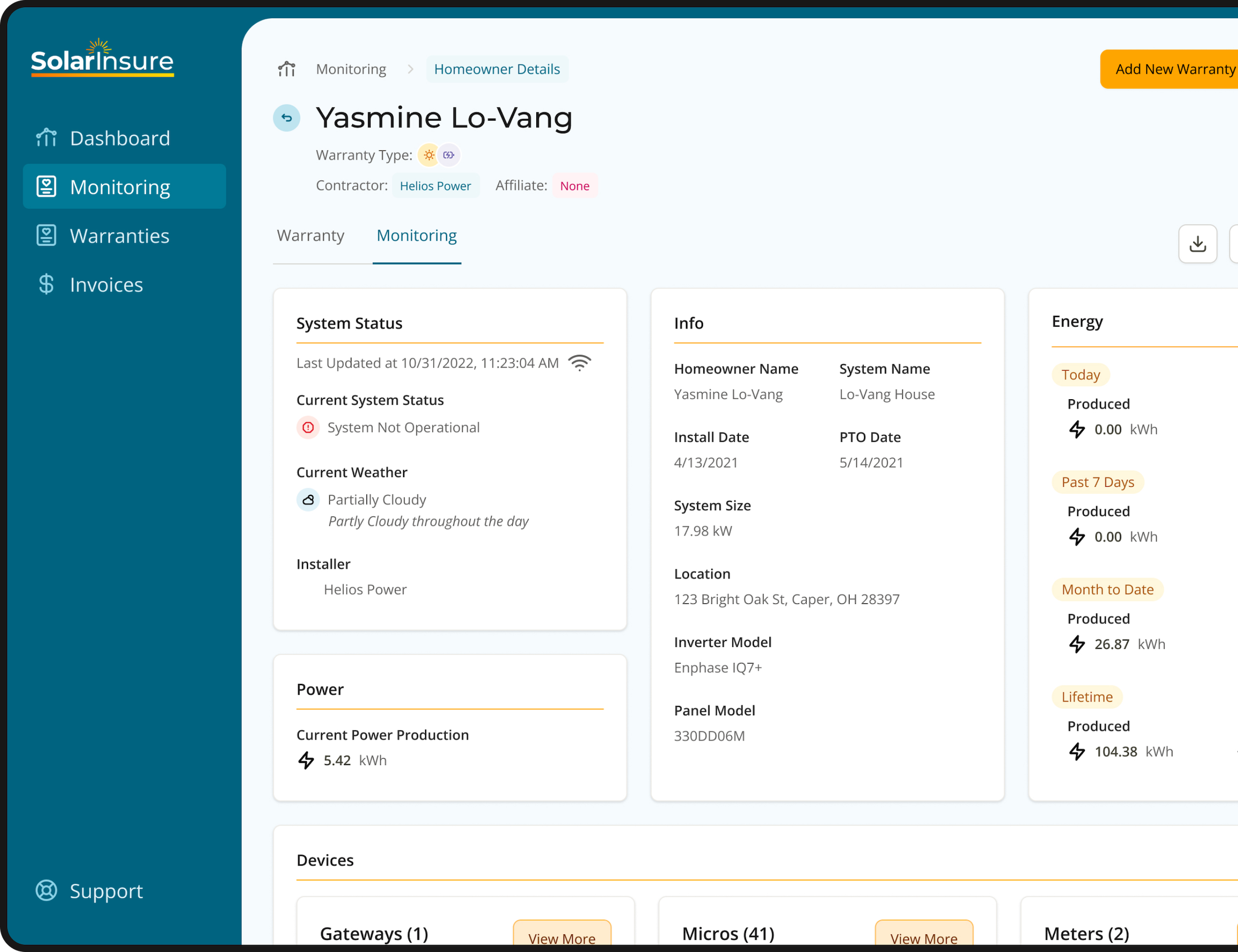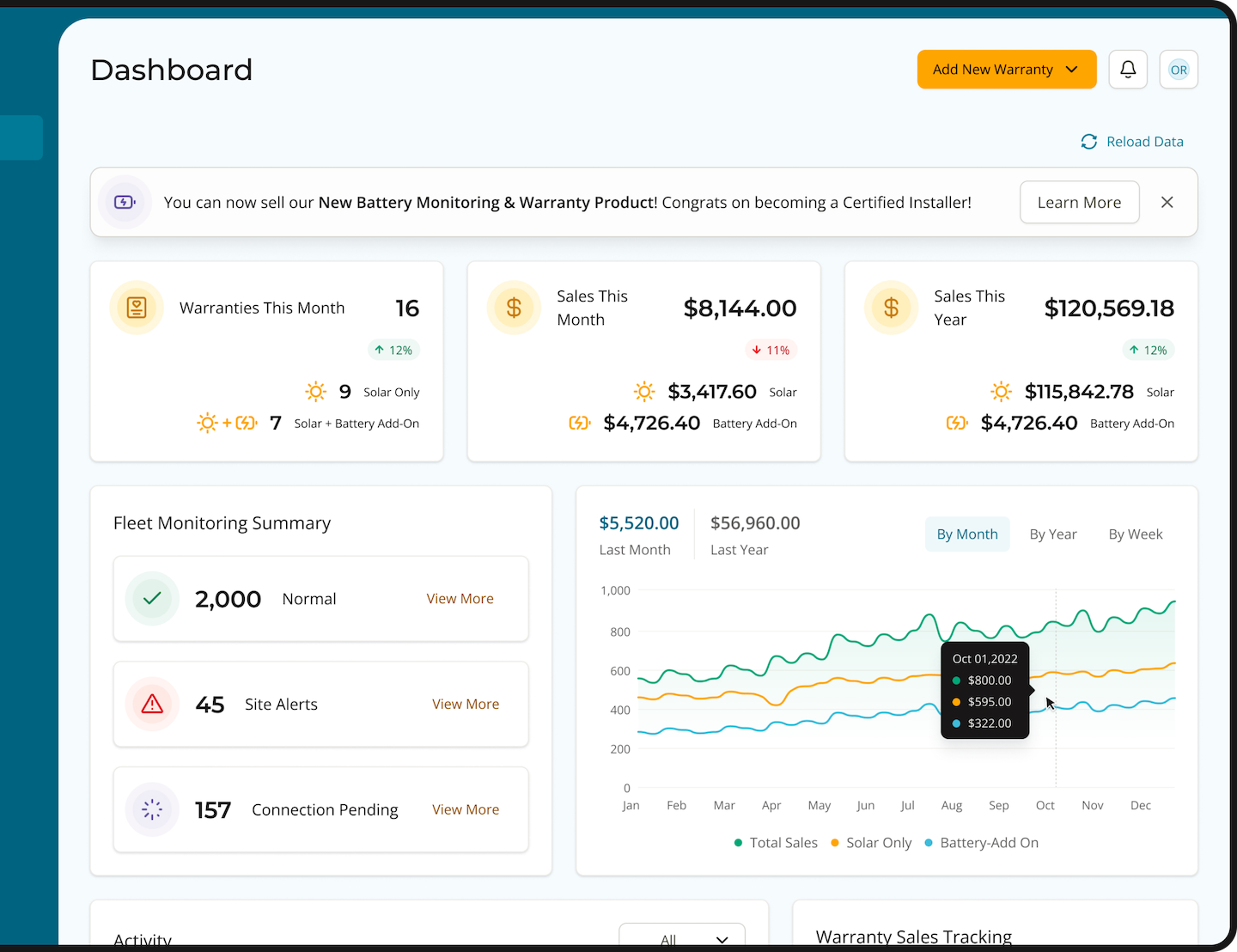 Fresh Look, More Engagement
See more, do more with a fresh, organized design.
Improved readability for easier information consumption

Better visual hierarchy for clearer content organization

Increased accessibility for users with visual impairments
Smarter Monitoring Features
Streamline your fleet management with our installer-facing monitoring tool.
Centralized dashboard for viewing data from multiple inverter manufacturers in one place

Easy to analyze alerts for faults and maintenance requirements at the component level

Production and consumption data tracking for comprehensive system performance analysis
Solar Insure's Brand New UI Redesign is Here
We've been working hard to create an interface that not only looks great but is also user-friendly and intuitive. Users won't need training since we've kept everything you know and love in the current user interface but have enhanced the usability and features in our new user interface.
Are you ready to Access Solar Insure Daybreak?
Users gained access to the new user interface in April of 2023. All you'll need to do is "opt-in" to the new design. You'll have access to switch back to the old design, if you wish, until June of 2023.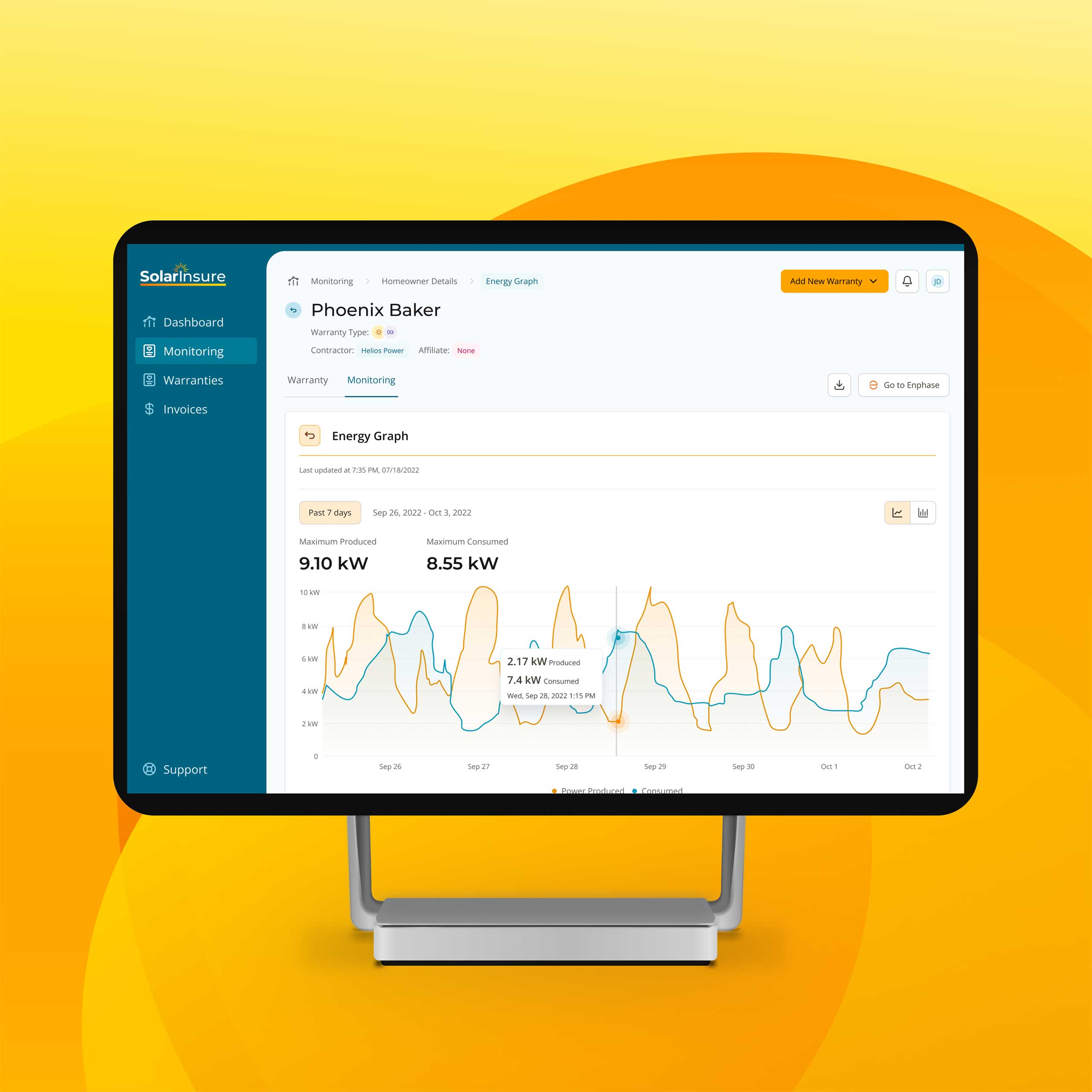 FAQs
Everything you need to know about our redesign. Can't find the answer you're looking for? Still have questions? Email our Tech Support team at tech-support@solarinsure.com. 
Will I need to go through additional training to use Solar Insure Daybreak?
No, Solar Insure Daybreak is designed to be intuitive and user-friendly. However, if you require additional training, we will provide you with resources and support to help you navigate the new interface.
Will the software's functionality change as part of the UI redesign?
No, the redesign focuses solely on improving the software's interface. The software's core functionality and features will remain the same.
Will the UI redesign affect my existing workflows or data?
No, the redesign will not affect your existing workflows or data. Your settings and data will remain intact, and you should be able to access them as usual.
Why is there a UI redesign?
The UI redesign is aimed at improving the software's usability and overall user experience. By updating the software's look and feel, it can become more modern, visually appealing, and easier to use.
Can I switch back to Solar Insure Classic if I prefer it?
Yes, for a set time period of 8 weeks, you can switch back to Solar Insure Classic from the new interface, Daybreak, if you find it more comfortable. However, at the end of the set time period, Solar Insure Classic will be deprecated, and all users will be required to use Solar Insure Daybreak.
When will Solar Insure Daybreak be available? How will I be notified?
The new UI redesign for our software product became available in April of 2023. Users will be notified of the change within the platform, where they will see the option to update on launch day.